Great things to do in Amsterdam in autumn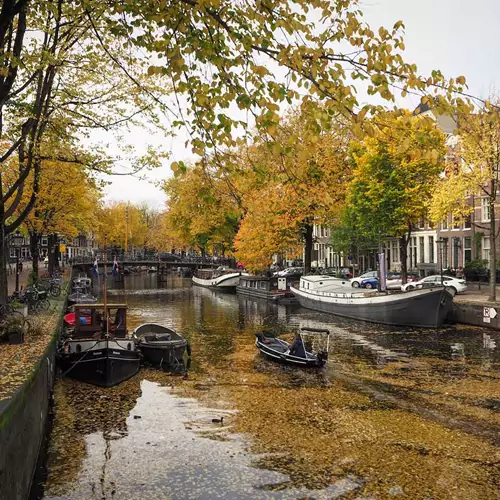 So the Amsterdam spring has tulips and daffodils, the Amsterdam summer has days on the water and drinks on terraces, the Amsterdam winter has snow, skating on the canals (hopefully) and Christmas lights, but what about autumn? If you feel like autumn might not be the perfect time to visit the Dutch capital you are very much mistaken. Let us introduce you to our favourite attractions and activities you'll love during autumn in Amsterdam!
Enjoy the quiet
The summer tourists have gone home and left behind are the locals and the few who already know what we're about to tell you. Amsterdam is beautiful in autumn! The green of spring and summer makes room for the yellows, oranges and reds of fall and blend in perfectly with the picturesque historic city centre.
Add in one of the historic canals and you have the perfect picture. Top that with off-season hotel rates and fewer crowds on the streets and you have the perfect holiday. Explore the city on foot with the Vox City Walks or hop on a Fatbike, to explore beyond the city centre.
Discover the canals
Imagine this: it is a warm autumn day, the sun is shining, you joined a canal cruise on the historic Amsterdam canals, the banks are lined with trees dipped in orange, red and yellow, the clear blue sky makes the city look even more beautiful... there is no better way to explore the Dutch capital!
The canals really are the place to be on a sunny fall day in Amsterdam to explore the city from another perspective, relax as you cruise through the beautiful canals and past iconic sights as well as picturesque canal houses. Even if it happens to rain during your trip to Amsterdam, you'll stay comfortable and warm in the boats!
Visit one of Amsterdam's beautiful parks or its forest
Those golden leaves that fill the trees make the perfect scenery for a visit to a park or forest. Luckily, Amsterdam has a few great ones. Here you can stroll, relax or engage in a sporting activity. The most well-known park is probably the Vondelpark. Here you can find restaurants, a rose garden and even an open-air theatre. But also the lesser known parks are worth a visit. Go to the Westerpark or the Amstelpark for example and mingle with the locals.
Or if you want even more fresh air, visit the forest Amsterdamse Bos. Filled with cycling and walking paths it is the perfect autumn getaway. Enjoy the colourful forest and crisp air in the Dutch capital during autumn. And Amsterdam in September or October is known to still have lovely sunny days so a little sunbathing isn't as far-fetched as you might think. We do recommend to pack an umbrella and a rain jacket on a gloomy day though.
Explore the world's best museums
Fall days in Amsterdam are perfect for exploring some Dutch culture and great art. Amsterdam is famous for its well curated museums and you can choose from 75 museums in the whole city! If the warm sun is replaced by a storm on a rainy day, paying a visit to some of the world's best museum is a fantastic idea.
Go to the Rijksmuseum to see world-renown paintings by Dutch masters or take the kids to the NEMO science museum and discover new things. Alternatively, visit Red Light Secrets to learn more about the sex workers and their perspective in the notorious Red Light District. Looking for a different kind of experience? Amsterdam's Instragram museums, such as WONDR Experience and The Upside Down ensure the perfect backdrops for your holiday pictures even on a rainy day!
Visit Amsterdam's most bizarre museum
Ripley's Believe It or Not! reveals the world of the Unbelievable and the Bizarre to you! This museum is Amsterdam's weirdest attraction and showcases the world's most remarkable collection of natural, scientific, artistic, and human oddities in an impressive five-story exhibition.
After your visit to the museum part of Ripley's, you can unwind and take it all in at the 500 m2 lounge area, grab a cooling drink and enjoy a unique bird's-eye view of Dam Square. Not only can you see Amsterdam's beautiful autumn mood from here but it also is the perfect setting to share a drink with friends on Halloween.
Indulge in traditional Dutch food
So the Dutch might not be famous for for their local cuisine, but we do offer some great fall treats! How about the traditional warm slice of apple pie combined with a hot chocolate topped off with whipped cream and marshmallows. Or warm up in one of the brown café's and enjoy a Herfstbok!
A Herfstbok is a beer brewed especially for the season and is offered by many Dutch breweries. If you're tired after a day of exploring and sightseeing, enjoy traditional Dutch stamppot (mashed potatoes with vegetables and a sausage) or a bowl of erwtensoep, also known as snert (pea soup). These treats will surely warm you up!
Dance all day at Amsterdam Dance Event
From 19 to 23 October the most upfront and influential gathering for global electronic music and its industry come to town. The Amsterdam Dance Event includes over 1,000 events in nearly 200 locations throughout the city, including at Escape Club and many other Amsterdam nightlife locations. During these five days and nights, the city of Amsterdam breathes, flows and moves to electronic music.
ADE is all about the music but there is more to it. Amsterdam Dance Event has two sides, the festival with all the music is one, including Amsterdam Music Festival, and the other consists of conferences. If you want to learn more about electronic music, than a visit to Our House, the world's first electronic dance music museum, has to be part of your visit to Amsterdam.
Get spooky during Halloween
The best holiday in all of autumn? That's Halloween of course and it is even better when celebrated in Amsterdam! While it is not a traditionally Dutch festivity, it is still celebrated all over the city with streets filled with trick or treaters and freaky Halloween parties.
Plus, a visit at the Amsterdam Dungeon is even better to end a spooky autumn day! From October, the Dungeon will get extra scary, with an especially creepy séance, and extra richly decorated during their Home of Halloween season. Yes season, because one day simply isn't scary enough for the Amsterdam Dungeon.