Halloween in Amsterdam: the Dutch capital at it spookiest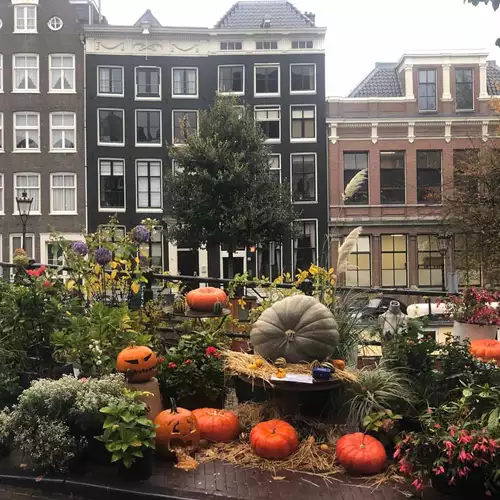 Halloween is the perfect occasion to remember that having a good fright can be fun too, especially when visiting Amsterdam! While the Netherlands may not be the birthplace of Halloween, it sure has embraced the spooky tradition with legendary Halloween parties and trick or treating becoming increasingly popular.
Halloween events can be found throughout the country with Amsterdam being the hotspot of legendary parties and with streets full of Jack O Lanterns and gruesome decorations. From traditional Sint-Maarten festivities to a scary tour through the city and enjoying spooky treats, Amsterdam has a lot to offer during the scariest of holidays!
Home of Halloween
The Amsterdam Dungeon is one of the scariest things to do in the capital, especially during Halloween. The Dungeon is located near Dam Square, on the site of a 16th century cemetery. It was once a site of public executions, including the burning of thousands of suspected witches during the Spanish Inquisition. Some people believe these tortured souls still haunt the square and the surrounding streets.
At the Amsterdam Dungeon, you can dive into the city's dark past, promising an interactive experience that is both hilarious and terrifying! Enjoy live shows with scarily good actors and special effects and get ready for a multisensory experience where you can smell, touch, see and hear everything around you. Leading up to and during Halloween, the Amsterdam Dungeon has extended opening hours and an extra scary séance show.
Have coffee with a witch's best friend
And by a witch's best friend we mean cats of course! Once upon a time, cats were believed be disguised demons or evil spirits in medieval Europe, aiding the witch in her spells and acting as her familiar. Hence, it was often believed that one way to identify a witch was if they owned a feline friend.
Grab a cup of coffee with the little sidekicks is a great and relaxed way to enjoy spooky season, luckily Amsterdam is home to a variety of cat cafes paying homage to them. You are even likely to see cats lazing about regular pubs and cafés. At Kattencafe Kopjes, the first cat café in the Netherlands, you can enjoy a warm cup of 'catuccino' or tea alongside seven cats that were lovingly selected from shelters.  
Experience the unbelievable
Are you looking to give your senses a true rollercoaster ride? At Ripley's Believe It or Not it's up to you to believe what you see when you embark on a journey through time and space. From real human shrunken heads to torture equipment, you will find it all at Ripley's.
Spread out over five floors, you'll discover bizarre stories of rare artefacts, meet extraordinary personalities, play around with optical illusions and interactive mind games, whirl through the only space tunnel in the Netherlands and observe Dam Square from a bird's eye view.
Discover the dark side of Amsterdam
The pragmatic Dutch may claim not to believe in ghosts but the city had its fair share of haunted places and ghostly residents. All you have to do to find them is go outside and walk through the city to find streets with gruesome names.
For instance, there is Helena on Ghost Alley, or Spooksteeg, who was cursed by her own husband on her deathbed (for murdering his first love, her own sister) in the 18th century. And the blood of condemned prisoners is said to have flowed through Blood Street (Bloedstraat) as it ran down from Nieuwmarkt to the canal.
Would you rather not go on a ghost hunt alone? Join in for a Ghost Walk through the city! The tour takes you through Amsterdam's spooky past that had its fair share of death and diseases and is full of witches, demons and ghosts. All stories you'll hear from the experienced guides are original, historical and authentic.
Halloween parties galore
If you are looking for a Halloween party in Amsterdam, there are plenty of options to choose from. The parties come in all shapes and sizes and happen all over the city. Several of Amsterdam's hottest clubs are having Halloween parties throughout the long weekend, all expect you to come in your best costume.
Escape Club, one of the largest and most popular nightclubs in Amsterdam, is having Halloween themed parties on the 27th, 28th, 29th, 30th and 31st of October. Other clubs you might want to visit include Melkweg, which has a Halloween Special on Saturday 28 October, and Panama, where there are Halloween parties on the 27th and 28th. And Westerunie, in Amsterdam's Westerpark, also goes all out on the 28th with the theme Super Villains to inspire your costume.
Fright Night Skate
Put on your roller skates and celebrate Halloween differently this year with Friday Night Skate! Starting from Vondelpark, Friday Night Skate has taken place here for over 30 years already. It takes its participants to the best spots from the main road to more challenging roads over bridges and alongside canals and tunnels.
The skate is a weekly Friday tradition but the skate on October 27th will be an extra special one. Dress up in your best Halloween costume and join in for a scary Halloween skate around town as well as a fun battle for the best costume. 
Celebrate the Festival of Sint-Maarten
The Dutch trick or treat tradition takes place on November 11, on Sint-Maarten. This festival is celebrated mostly in the Netherlands, Germany, Belgium as well as some parts of France in honour of Martin of Tours, the 3rd bishop of Tours in France. He is especially well known for cutting his cloak in two with his sword to give half of it to a freezing beggar during winter.
Traditionally, the festival is marked by a big mass. While the religious significance has declined over the years, it still is a popular festival among children to this day. On November 11, groups of children will go door to door with homemade paper lanterns and sing songs, asking for sweet treats. Either join in with your children or keep some sweets ready for the brightly lit parade!