The most romantic things to do in Rotterdam on Valentine's Day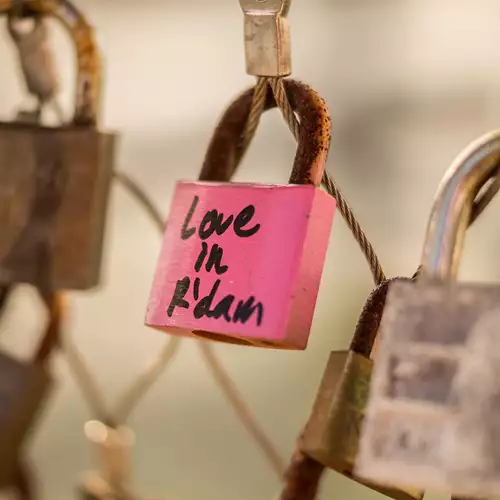 Whether you're visiting Rotterdam on Valentine's Day or some other time, the second biggest city in the Netherlands is always a good destination for the perfect date. Spend a fun day in one of Rotterdam's many parks, toast to your love with a local beer or take a romantic stroll through the city's marvellous botanical garden.
Toast at a beer café
Rotterdam is not only a modern city in terms of its architecture but it is also a cultural and culinary hub in the Netherlands, always balancing on the line between modern trends and history. Hence, it is no wonder you can find plenty of craft beer bars all over the harbour city that delight with unique flavours and hands-on experience.
One of Rotterdam's most iconic city breweries is Brouwerij Noordt. They offer 20 different home-brewed and equally down to earth and surprising beers from the tap, making it a beloved bar amongst locals and tourists alike.
Another great restaurant with fantastic ambience and delicious beers is Kaapse Maria, one of the bars of the Kaapse Brouwers. Here you can find 24 different bars on tap, accompanied by live music on the weekends and beer tastings. Located in a historical building, the bar offers scrumptious and creative food as well as a big selection of wines.
High tea above the city
The Euromast is one of Rotterdam's most remarkable and iconic landmarks. But did you know you can also dine above the roofs of the city here? The Euromast Brasserie is located on the observation deck of the tower at 112 metres height, making it the perfect restaurant to treat yourself to a high tea or dinner with a view.
The restaurant offers plenty of options to make your Valentine's Day unforgettable. Greet the day with a diverse brunch, enjoy a melt-in-your-mouth combination of luxurious snacks and accompanying wines during High Wine or treat yourself to one of the many cakes the restaurant offers.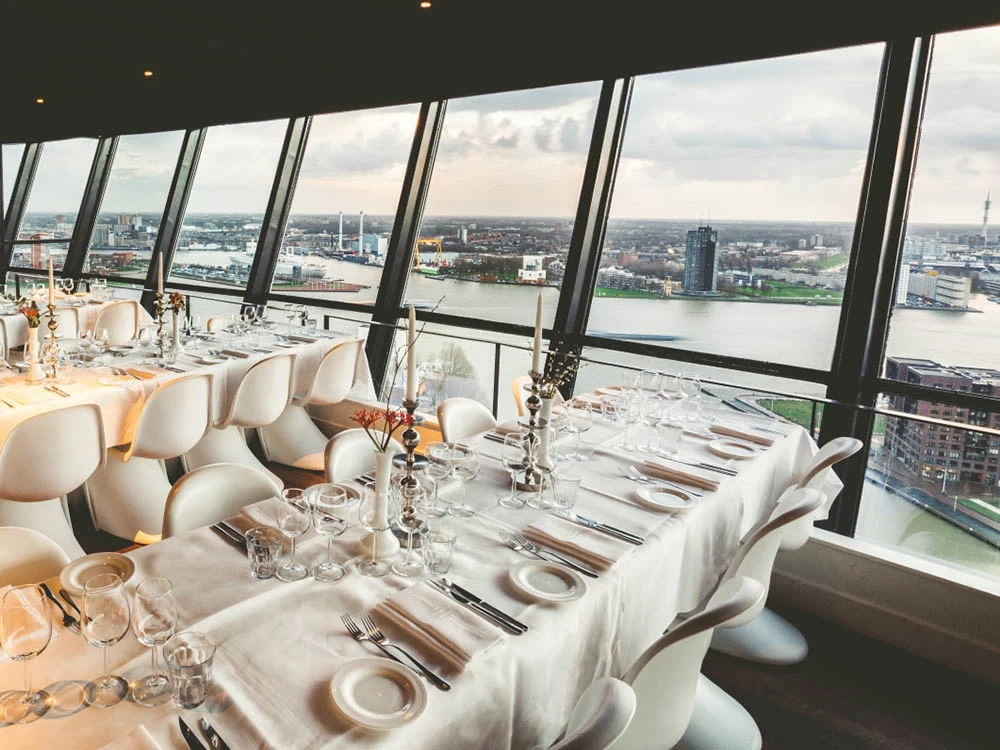 Blossoming flowers
Rotterdam may not be close by to the famous Keukenhof Gardens. However, the Trompenburg Botanical Garden is definitely a hidden gem and cosy, green getaway just outside of the busy city. Neatly tucked away in Kralingen, the botanical garden is a beautiful location to spend your Valentine's Day at without having to buy flowers.
The garden spans over 8 hectares and has a lot to offer - from Dutch tulips to a large collection of different bulbs, trees and perennials. This includes a collection of more than 700 types of Rhododendrons, a lively Cacti House and an English-style landscape garden. Crown your romantic walk on Valentine's Day in Rotterdam with a cup of tea in the Teahouse 'De Uithoek' while enjoying the first messengers of spring.
Walk around the old harbours
Rotterdam is not only the second largest city in the Netherlands but is also located directly at the mouth of the Nieuwe Maas channel that helped it become one of the biggest harbour cities in all of Europe, spanning over 40km! The scenic old harbour of Rotterdam is thus the ideal spot for a romantic stroll around the water.
Walk around the picturesque areas of Oude Haven, Leuvehaven and Wijnhaven that are some of the remaining parts of Rotterdam's original harbour dating back as far as 1350. The old docks create a charming atmosphere, making it the perfect location to discover Rotterdam, including the Witte Huis, Europe's first skyscraper, and marvel at the glittering water with your Valentine's date.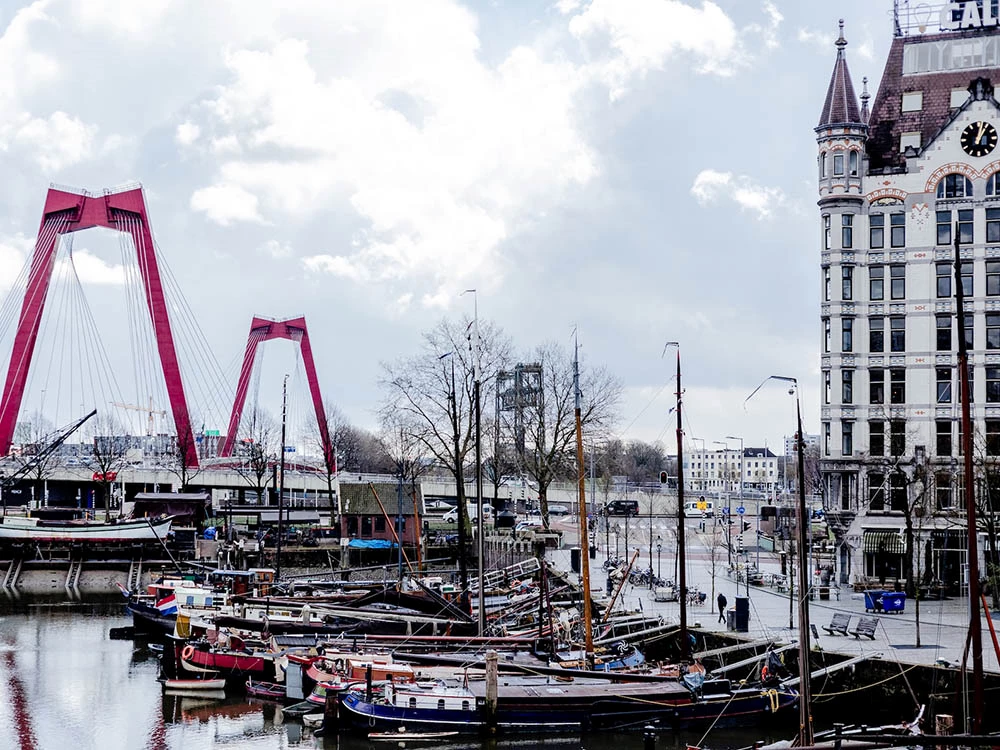 Spice it up
Chocolate is the most common sweets to gift to your loved one for Valentine's Day, they belong to the staples just like flowers and hearts. But how about spicing it up a bit this year? Food bars from Arzu are the perfect alternative to regular praline boxes and are packed with surprising treats.
The founders Arzu Pinar and Emrullah Meti hand make their scrumptious food bars and truffles in their locations in Rotterdam North and West or add in specialties from local producers. Founded in 2017, they now offer 20 different flavours of the unique treats as well as confitures, nuts, dates and caramels. The different boxes with mixed bars and truffles are the ideal gift to surprise someone special on the day of love!
Relax in Rotterdam's parks
Despite its many skyscrapers and modern architecture, Rotterdam is surprisingly green. Around 20% of the city are covered by green area, including lush parks. They not only offer opportunities for exercises and long strolls but they are also the perfect spots to relax and spend your afternoon or evening with a romantic picnic.  
Het Park is one of Rotterdam's best parks right in the heart of the city. You can't miss it as it is directly located at the foot of the Euromast observation tower. The park is inspired by English landscape-style parks, providing a romantic atmosphere for a day out.
Or do you fancy a breath-taking view over the city instead? The Dakpark is located at a height of 9 meters, giving you a magnificent view over Rotterdam's harbours as well as the city's marvellous architecture.