10 fun facts about Berlin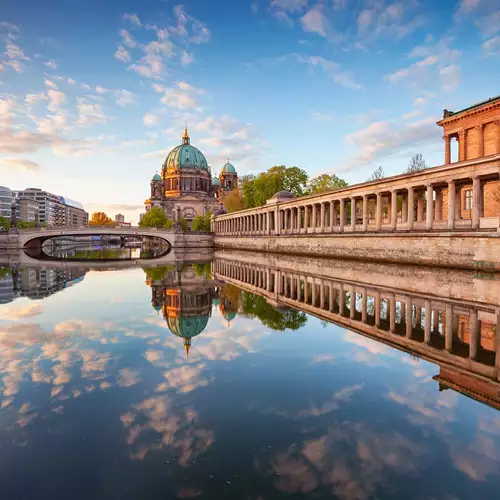 There is so much to know about an amazing city like Berlin, from the history some of the city's favourite snacks (currywurst and Döner) to it's three UNESCO World Heritage Sites. Some fun facts about the German capital are common knowledge while others are far less known. These are some of our favourite fun facts about Berlin.
1. Berlin is the greenest city in Europe
The German capital has more parks and green spaces than any other city in Europe, with around one-third of the city consisting of parks, forests and gardens. The most famous of these green spaces is Tiergarten, also known as the lungs of the city. A lesser known place for tourists is Teufelsberg, a dense forest popular for hiking, picnicking and panoramic views of the city that stands on top of a man-made hill consisting of World War II rubble.
2. Berlin is home to the largest open-air gallery
The East Side Gallery is an extraordinary spot to visit along the Spree river. At 1.3 kilometres it is the longest open-air gallery in the world and it is the longest remaining sections of the Berlin Wall. Almost immediately after the wall came down, artists from all over the world came to decorate this now iconic piece of history.
3. Home to the tallest structure in Germany
The TV Tower on Alexanderplatz is the tallest structure in all of Germany. The tower is 368-metres tall and has a viewing platform at 203-metres and a revolving restaurant at 207-metres. This is where you want to go for spectacular views of the city, and up in the restaurant you can have a simple snack, high tea or a 3-course dinner.
4. Berlin has more waterways than Venice or Amsterdam
While both Venice and Amsterdam are known for their canals, the capital of Germany has more water running through it then either one. As the city is nine times larger than Paris, it is no wonder that there are 180 kilometres of waterways in Berlin. When it comes to bridges though, Amsterdam still outranks either city with over 2000 bridges compared to Berlin's 1700 bridges.
5. Berlin has more museums than rainy days
While it is difficult to say how often it rains in Berlin, sources say anything between 106 and 170 days a year, it is easier to find out how many museums there are in Germany's capital city. One thing is for sure, there are more museums. Currently there are around 190 museums and non-commercial galleries in the city.
6. There is more to Berlin underground
Though there is plenty of history to discover above ground, there is even more beneath the city streets. There are tunnels and bunkers that served various purposes throughout history, including as air raid shelters during World War II. Berliner Unterwelten offers different tours through these hidden sections of the city's history.
7. Berlin's has unique traffic lights: Ampelmännchen
Berlin has a long history with traffic lights as Europe's first traffic light was installed in Potsdamer Platz in 1924. When the country was divided each side had its own traffic light figure and after reunification the western figure was set to conquer. But Berliners protested and ever since the little traffic light man can claim cult status and has become a popular tourist souvenir.
8. Largest department store in continental Europe
KaDeWe or Kaufhaus des Westens is the second largest department store in Europe, after Harrods in London. This shopping paradise, on Tauentzienstraße, offers 6 levels and 60,000 square metres of fashion, food, beauty and living. Every day around 40 to 50,000 people visit KaDeWe.
9. Ride the fastest lift in Europe
The TV Tower might be higher but at Panoramapunkt you'll reach the viewing platform faster. The tower on Potsdamer Platz is home to the fastest lift in all of Europe. In just 20 seconds you will reach the 24th floor, where you can enjoy a 360° view of the city.
10. A super dog friendly city
Germans love dogs, so much so that we are often asked if they can bring their dogs with them on attractions and tours. In 2011, Berlin was voted Germany's most dog-friendly city, where you can take your dog with you most places. There are around 126,000 registered dogs in the city, if you also count the unregistered dogs, Berlin is home to over 200,000 dogs.