The 7 best things to do in Amsterdam in winter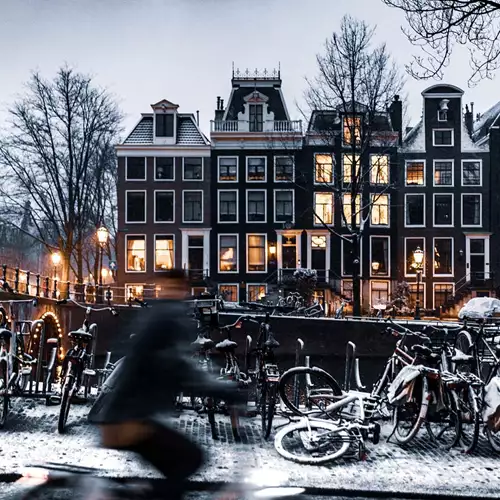 Winter is the perfect time to travel to the Netherlands and a city trip to Amsterdam. The Dutch capital looks even more romantic full of Christmas decorations and hundreds of lights over the canals, there are a lot of festivals happening and you can experience the famous Dutch gezelligheid yourself during the winter months. 
Amsterdam Light Festival
The Amsterdam Light Festival is a true staple of wintertime in Amsterdam ever since its first edition in 2012. Dozens of light sculptures and artworks from artists from all over the world lighten up the dark canals and streets and dip the city into cosy, warm atmosphere. The best way to see all sculptures and the Dutch capital from a different perspective is an Amsterdam Light Festival Canal Cruise.
This year, the festival's motto is Celebrate Light, looking back at the most inspiring and popular artworks of the past few years while shining a light on social issues such as loneliness and child poverty. Check out our blog post on the Amsterdam Light Festival for more details!
Go ice skating
When visiting Amsterdam in winter you might get lucky and participate in one of the Dutch's most favourite winter activities: ice skating on the frozen canals, the world's most unique ice rink. But even if the canals don't freeze enough to be safe to skate on, there are plenty of alternatives in the city.  
A great alternative is Ice*Amsterdam. The ice rink is directly located on the Museumplein in front of the iconic Rijksmuseum. This temporary rink is festively decorated with lights and Christmas trees and is open from mid-November to the end of January. You can either bring your own ice skates or rent a pair here.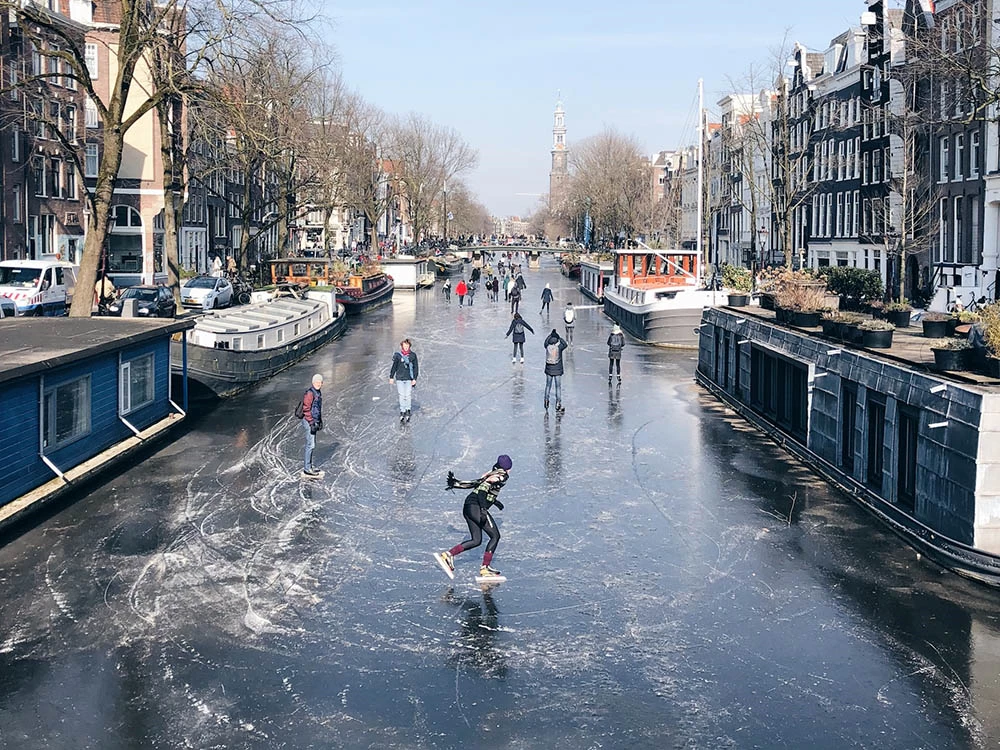 Enjoy the cosy Dutch gezelligheid
Almost as much as the Danish phenomena of hygge, gezelligheid is hard to translate but a crucial part of Dutch culture. It is all about cosiness and spending quality time with your loved ones. And what season could be better to do so than the holiday season?
Whether you travel with your partner, friends or family – gezelligheid is all about the people around you. And no matter where you spend time with them, be it in front a fireplace all snuggled up, drinking a hot mulled wine at a bar or a Christmas market or enjoying a fancy dinner at a restaurant or a walk through the snowy parks, enjoy some quality time together full of joy and comfort during your trip to Amsterdam.
Try Dutch Christmas treats
Time to fill your belly with classic Winter dishes after a long day of sightseeing! Warm yourself up with a steaming hot bowl of Snert, a thick and savoury pea soup served with rye bread, or stamppot, the traditional Dutch version of mashed potatoes and veggies like carrots served with meat.
Once you're finished with the main course, it's time for dessert! Oliebollen are one of the Dutch's most beloved winter treats as they are only available during this time of the year. The delicious, deep-fried dough balls are traditionally eaten covered in powdered sugar but there are many variations out there nowadays! 
Join the Sinterklaas Parade
While Christmas is the most important Christian holiday in many parts of the world, it is Sinterklaas in the Netherlands. And: the Dutch Father Christmas is not shy of the limelight but rather embraces it compared to his peer Santa Claus, celebrating his grand arrival with a parade. The parade in Amsterdam is the largest one world and takes place in mid-November.
It is then that Sinterklaas comes to town with 600 Pieten, Sinterklaas' helper, and plenty of Pepernoten and chocolate letters to distribute alongside the canals. Traditionally, he makes his iconic entrance into Amsterdam by sailing down the Amstel river, continuing through the streets from there.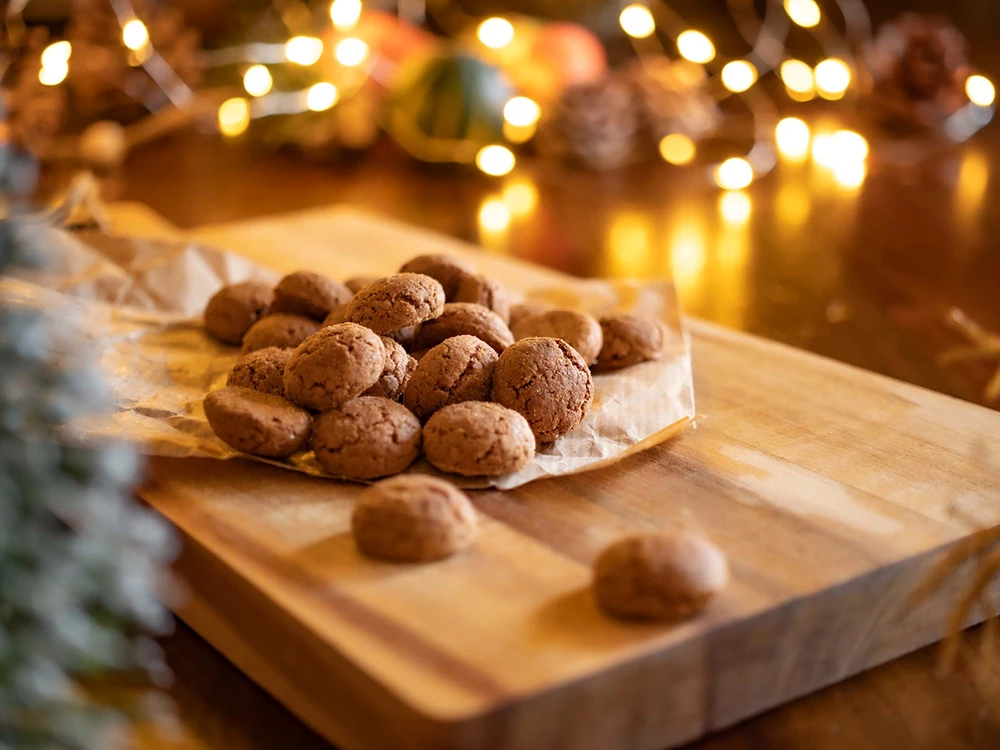 Pick a tulip bouquet on Dam Square
Tulips is one of the first things that might come to one's head when thinking about the Netherlands. And while the colourful tulips are usually associated with the arrival of spring, the famous flowers can be found in Amsterdam much earlier. The third Saturday of January marks the Nationale Tulpendag, the National Tulip Day, marking the official start of Tulip season.
Every year in January, the Dam Square is filled with a sea of more than 200,000 flowers. Specially arranged, the tulips form a giant temporary garden. And the best part is that it is all open for visitors to pick their own bouquet consisting of 20 tulips for free! Make sure to come by early though, the garden opens at 1 p.m. and the festival is popular among locals and tourists alike. 
Do you want to learn more about winter in Amsterdam? We got you covered! Read here more about Dutch Christmas traditions and how to best pack for the cold season in Amsterdam.