Visit the world's largest flower garden in 2023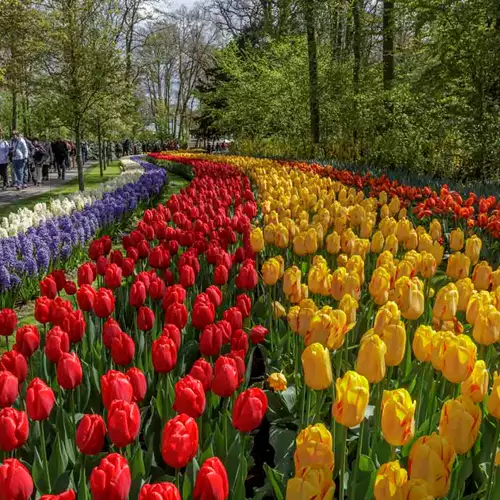 Visiting Keukenhof is something that is on a lot of people's bucket list when they visit the Netherlands and in 2023 this flower garden will be back in all its glory. Preparing for a visit to the gardens can raise some questions and we are here to answer them.
Where is it?
For starters, if Keukenhof isn't actually in Amsterdam than where is it and how do you get there? The garden of Europe, as the park is also known, is set in the small town of Lisse, southwest of Amsterdam. In a little under 40 minutes, a coach can take you from Amsterdam Central Station to the largest flower gardens in the world. On the way there you will drive through the part of Holland known for its tulip fields, the Bollenstreek or Bulb region.
How to get to the Keukenhof Gardens from Amsterdam?
Most people who visit Keukenhof stay in Amsterdam. It is quite easy to get to the gardens from Amsterdam. Tours & Tickets organises multiple Keukenhof tours a day during the season in 2023, that all depart from Amsterdam Central Station.
You can choose between a guided or non-guided tour or combine the tour with a Windmill & Countryside tour, all include transport and a fast-track entrance ticket to the gardens. This way you don't have to worry about public transportation.
When is the best time to visit the gardens in 2023?
This year Keukenhof is open from March 23th till May 14th, 2023. The flowers, though, are the creation of mother nature and are influenced by the weather. If spring decides to come early this year, then the bulbs will bloom from day one but might wither before the final day. If spring comes late this year or if we get frost in the coming weeks then the flowers might bloom later.
So we can't be sure when the gardens will be fully in bloom. Tulip season starts around mid-April, but the crocuses, daffodils, and hyacinths usually show themselves earlier. What we can tell you is that almost every year April has been a good month for flowers. It is also the busiest month in park though, so choose wisely.
What can I see and do in Keukenhof?
How long you can stay in the park is different for everybody, but there is more than enough to do to spend the entire day there. On average though, most visitors spend 3 hours in the gardens. In 2023 Keukenhof is open from 08:00 - 19:30, with the early morning and late evening hours being less busy.
Besides 7 million fresh flowers in all colours and shapes imaginable, you'll also find multiple restaurants and food stands in the park. Here you can get everything from coffee to sandwiches and even traditional Dutch food like raw herring and stroopwafels.
The park is also home to sculptures and other artworks, as Keukenhof collaborates with 25 artists. Aside from the visual beauty, the park also holds entertainment for the whole family with a scavenger hunt, petting zoo, maze and playgrounds on offer.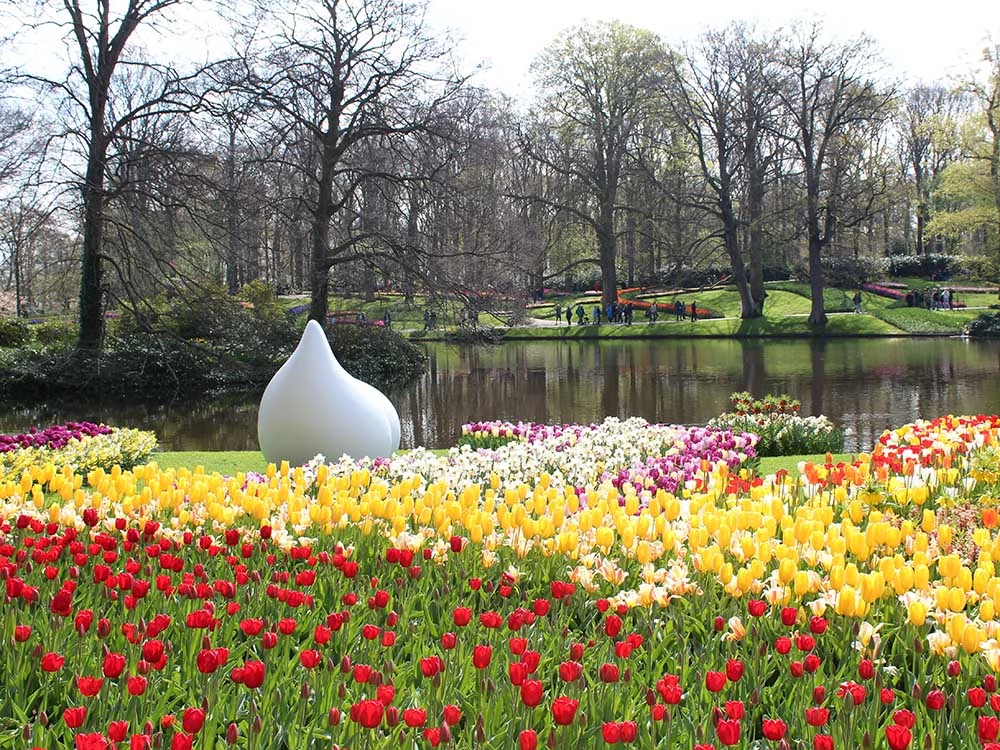 Keukenhof Gardens tickets 2023
The last bulbs to prepare for the 2023 season were planted in December 2022, which means the park is ready to welcome visitors when spring arrives. Now that you know how to get there and some of the many things you can see and do at Keukenhof, you are ready to choose a tour to become one of millions of visitors to millions of flower bulbs. And if you have any more questions, you might find the answer in our special Keukenhof FAQ.