Top attractions in Copenhagen you can't miss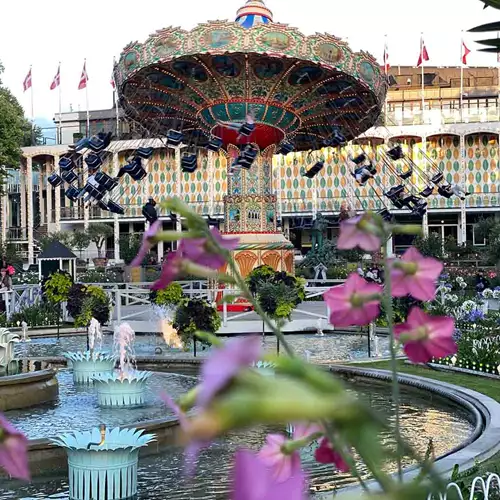 Whenever you visit Copenhagen, you are in for a fun trip filled with great sightseeing opportunities beautiful museums and exciting attractions. The city of fairy tales is filled with fun attractions, many unique to Copenhagen that are definitely worth a visit. Here are some of our favourite (tourist) attractions in Copenhagen.
Amusement park and pleasure garden Tivoli
Copenhagen's undisputed #1 attraction is Tivoli, the amusement park and pleasure garden in the heart of the city. Copenhagen's Tivoli Gardens is the second oldest amusement park in the world, the oldest amusement park in the world, Bakken, can be found just outside of Copenhagen. Walt Disney found inspiration for his amusement parks at Tivoli, though the Disney parks are focused far more on the rides than Tivoli is.
During a visit to Tivoli, the rides are optional and that is perfectly fine because there is plenty to see in the theme park itself. The park is filled with different types of gardens to engage all your senses, such as the Orangery which is reminiscent of classic, easy, exotic and nostalgic botanical gardens. Meanwhile the bubbles of the Nimb Water Fountains pull you in to enjoy beautiful flowers and scenery in the company of the occasional peacock. And over at the Pergola Gardens you can explore the world of edible plants by taking in both their fragrance and their flavours.
Immersive experience The Tube Copenhagen
Copenhagen's newest attraction can be found inside the city's main train station, right across the road from Tivoli. There is no other attraction like it in all of Copenhagen. Here all your senses will be challenged while you travel through a world of storytelling, space and instant fame.
Your balance, your sense of depth and direction, your sense of space and time, none of them will feel quite the same after your visit to The Tube Copenhagen. Walk through a vortex tunnel, jump into a massive ball pit, pose on the Little Mermaid's rock and get lost in never ending rooms. Along the way you can take a multitude of photos with either your own phone or the TUBE photo system.
Denmark's national aquarium Den Blå Planet
Ready to dive deep under water? Then head over to Denmark's national aquarium, which is Northern Europe's largest aquarium with 7 million litres of water, spread out over 10,000 m2. Den Blå Planet is home to over 400 different species of underwater creatures, who are divided into three main areas which represent their natural habitats.
The aquarium has its very own Big Five, which unlike those in you can see on safari are some of the coolest, funniest, cutest, noblest and most beautiful creatures you can find in the deep blue sea. Den Blå Planet's Big Five animals are sea otters, hammerhead sharks, stingrays, giant Pacific octopus, and arapaima.
Animals from all over the world at Copenhagen ZOO
With more than 4000 animals from all over the world, a visit to Copenhagen ZOO feels like you are traveling around the world in the span of a day trip. Visit the animals that are used to colder weather, such as the polar bears and penguins and take a walk through the savannah, with its giraffes, rhinos, zebras and lions. Head to the Asian forests with the beautiful and funny pandas and its wild tigers.
And you can even meet some of them up close and personal by going behind the scenes with the zookeepers. It's easy to spend half a day at Copenhagen ZOO is, luckily they have plenty of snack stands and restaurants to make sure you don't go hungry during your visit.
The incredible Ripley's Believe It or Not!
If you are looking for the most curious place in Copenhagen, than this is it, right on City Hall Square. Ripley's Believe It or Not! showcases one of the world's most remarkable collections of optical illusions, weird art and incredible oddities. In the only odditorium in Scandinavia, you'll find over 500 curiosities and exhibits.
Entering the odditorium is like opening a box of hidden treasures. At Ripley's Copenhagen you can meet extraordinary people from the past and the present as well as see anything from a two-headed cow to genuine shrunken heads, and discover horrifying torture instruments people once used on each other, like a genuine chastity belt or iron maiden, and get up close and personal with a real mummified hand!
A hands-on haunting at the Mystic Exploratorie
The dark hallways of the Mystic Exploratorie are filled with thrills, illusions and mystical phenomena. You can visit doctor Jekyll's laboratory and watch him transform in to mister Hyde, leave your own shadow behind on a wall, and dance with your own skeleton. Around the corners of the Mystic Exploratorie you'll cross paths with an assortment of unsavoury characters, especially when you walk through a desolated graveyard at midnight.
The cunning illusions of the Mystic Exploratorie will leave you wondering what is real and what's only in your mind. Did those paintings just move or was it a trick of the eye? Will you dare to sit in an electric chair, who knows what might happen when you do?
Up and around in the Round Tower
For a good view of the city you have the head up and find yourself above the city streets. In the heart of the city you can do just that at the Round Tower, one of Copenhagen's most iconic landmarks. You only have to walk up a few stairs because the Round Tower has a wide spiral path that leads almost all the way to the top of the tower.
The Round Tower is the oldest observatory in Europe still in use, though mostly by amateur astronomers. The tower is also home to a grand library hall which holds exhibitions and was often visited by Hans Christian Andersen when he lived Copenhagen. And the observatory is surrounded by a platform, which many visit for magnificent panoramic views of old Copenhagen.