Things not to miss in Kreuzberg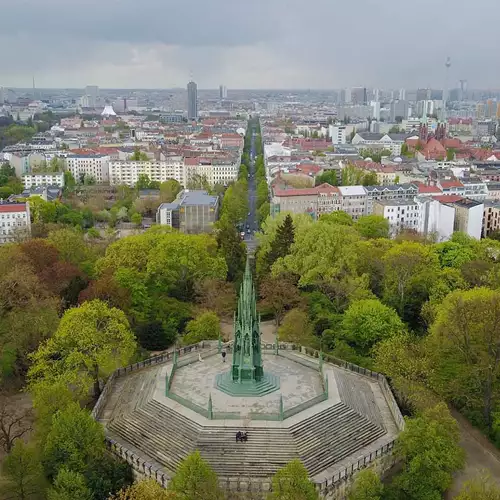 Kreuzberg (or X-berg) is one of Berlin's up-coming districts and a melting pot of cultures. After World War II, Kreuzberg was mostly inhabited by immigrants after the neighbourhood was mostly destroyed through bombings during the war. Over the years, X-berg, as it is often called by locals, is the aspiring and hip district of the German capital despite some difficulties in the past.
This makes it the perfect destination to explore Berlin's raw nature and see what makes it so unique. While it is becoming increasingly gentrified, Kreuzberg still has a lot of hidden gems to offer, also because it is home to a vibrant art scene, Berlin's LGBTQ community and often frequented by the punk rock and alternative music scene.
Unique food culture
Just like the district's fascinating history, Kreuzberg's food culture is equally diverse and has been influenced by many cultures over decades, especially by the Turkish cuisine. Did you know that one of the most famous street foods originated here? We're talking about the doner of course! Wherever you go you will find many food stalls that over scrumptious, meat and salad-packed doners here.
One of the most popular spots to try the filled pita is Mustafa's Gemüse Kebab. Just make sure to arrive either very early or late in the day as their reputation precedes them. This way, you will void long queues and waiting time to get your hands on the best doner in Berlin.
Another event foodies can't miss is a visit to the Markthalle Neun. This modern street food hall is home to many food stalls with a vast amount of options to choose from. Every Tuesday, Friday and Saturday you can find a weekly local market here where you can buy the best foods to tickle your taste buds, ranging from fresh homemade pasta to traditional Italian baked goods or unique craft beers.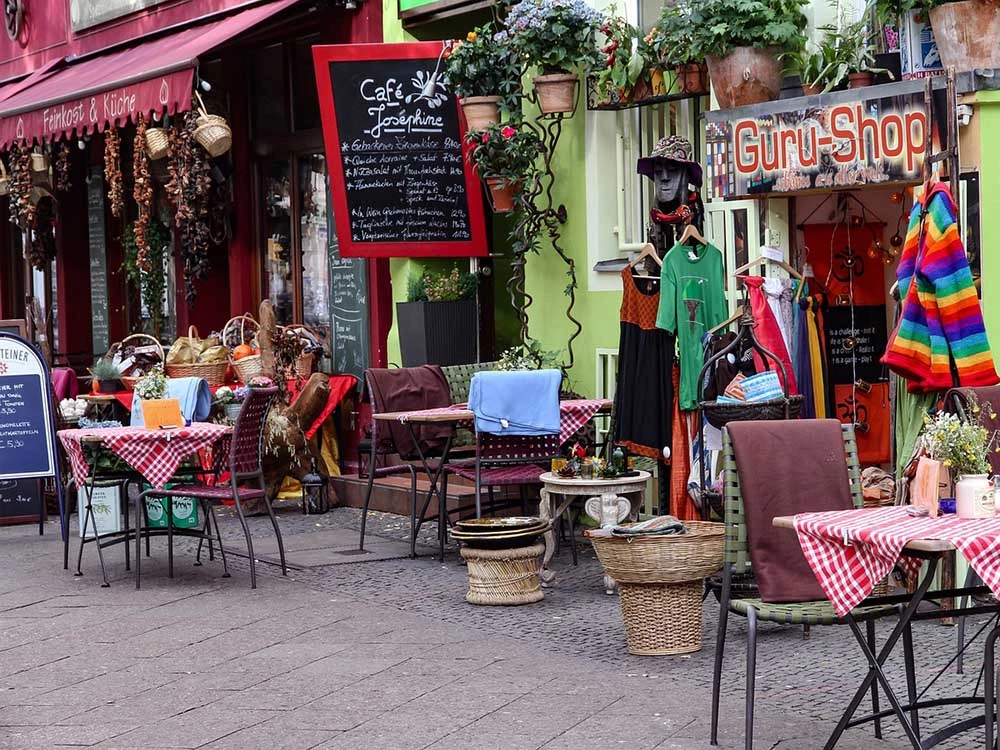 Coffee culture par excellence
Just like Kreuzberg's food culture, its coffee and café culture is an attraction in itself. Many cafes and coffeeshops work with special roasting and brewing methods or inspire with coffee beans from all over the globe. A good example is Five Elephant. This unique coffee roastery lets all its passion flow into operating as socially and environmentally responsible as possible. You will not only be able to enjoy coffee made from beans from all over the world here but Five Elephant is an artisan bakery at the same time, providing you with the perfect cake to match your coffee.
An innovative approach to coffee can be witnessed at Bonanza Coffee. They use the process of the so called 'retro innovation', a combination of both new and old techniques to brew the coffee. Here, you can buy coffee beans and blends from many different countries. They all differ in aromas, catering to all tastes. The best part is you can sip your coffee while the beans are roasting in the remarkable machines in the background.
Fascinating museums
Although Mitte is home to the most popular museums in Berlin, there are still many gems to see in X-berg as well! The Gropius Bau, for example, is one of the most important exhibition venues in Germany. Its changing program covers everything from photography, cultural history, archaeological findings and contemporary art presented on a large scale.
Another world-renowned museum in Kreuzberg is the Jewish Museum. It is the largest of its kind in all of Europe and guides visitors through Jewish culture and Jewish-German history with thousands of objects, artefacts and their stories. The zigzag building was designed by architect Daniel Libeskind and with its subterranean axes and sloping walls the building has become a landmark in Berlin on its own.
For those who want to learn more about contemporary art, photography and architecture made in Berlin, there is the Berlinische Galerie. This unique museums collects and preserves art from local artists and gives a glimpse into the city's vibrant art scene. It is not without reason that Berlin is known as a city of artists. This makes it another very important exhibition venue in the capital.
Close to Checkpoint Charlie lies the Mauermuseum – Museum Haus am Checkpoint Charlie. The museum takes visitors through the historical events surrounding the checkpoint and the experiences of GDR citizens who fled, often through innovative hiding places and escape routes. The museum was set up right after the Wall by resistance fighter Dr. Rainer Hildebrandt and has recorded its influence ever since but also documented flight plans.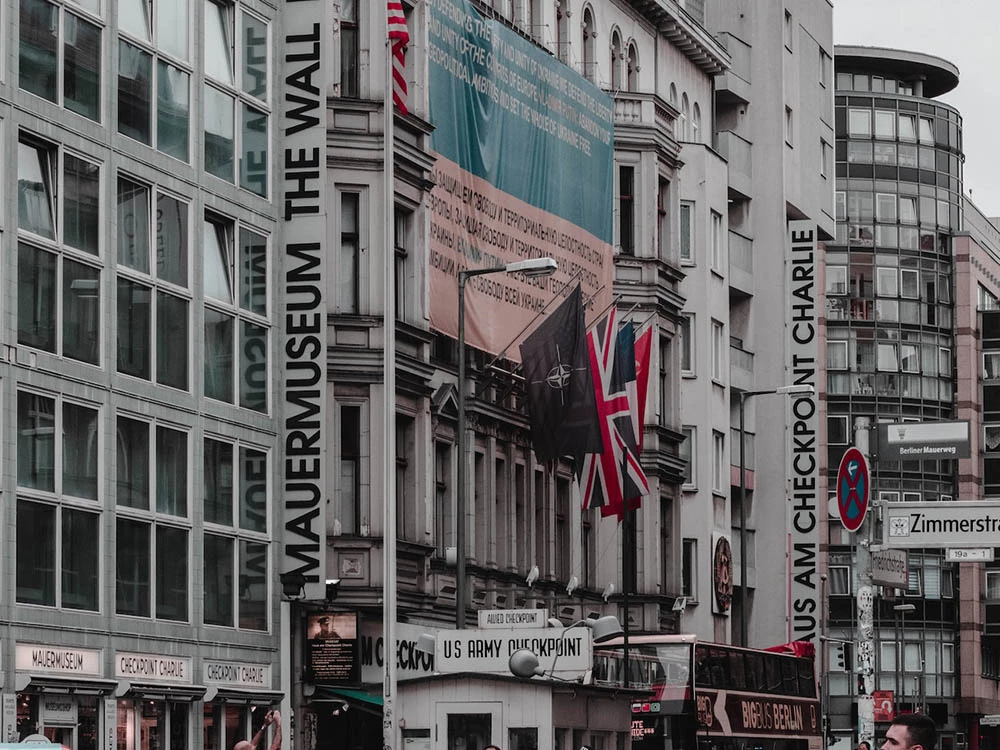 Innovative drinks near 'Kotti'
The many cafes, clubs and bars around Kottbusser Tor, or Kotti how the Berliner lovingly named it, are the perfect spot to enjoy unique drinks and explore new tastes while having a good time with your friends.
Quite literally a hidden gem in the heart of Kreuzberg is the Fahimi Bar. It will require some effort to find the bar that can only be accessed over a staircase tucked away. You'll be rewarded with a magnificent panorama view over the district. This club is best known for unique cocktail creations and its drinks of the week. Here, you can enjoy drinks such as the Fleur 'd Orange with a Roku Gin, Bergamot, Orange and Citrus Blossoms as well as Earl Grey Tea surrounded by the industrial interior with rustic charm.
The Paloma Bar promises an equally good time in a cosy atmosphere. The twist: the small club's nostalgic interior is reminiscent of the 1970s German style with a smoky touch. It frequently hosts some of the best DJs from Berlin and abroad, making the indie-themed music nights here legendary.
Checkpoint Charlie
One of Kreuzberg's most important and historically relevant sights is Checkpoint Charlie. Once the crossing point between East and West Berlin, the former border checkpoint connected the Soviet sector with the one of the USA. Today, it symbolizes the country's division and unity at the same time. Here, many tried to flee the GDR with spectacular plans and several confrontations of the blocs took place.
The checkpoint and its surroundings are still reminiscent to the time the Berlin Wall fell. The checkpoint booth with flags, sandbags and a barrier give a good impression of how the border checkpoint used to operate.