Experience Copenhagen in winter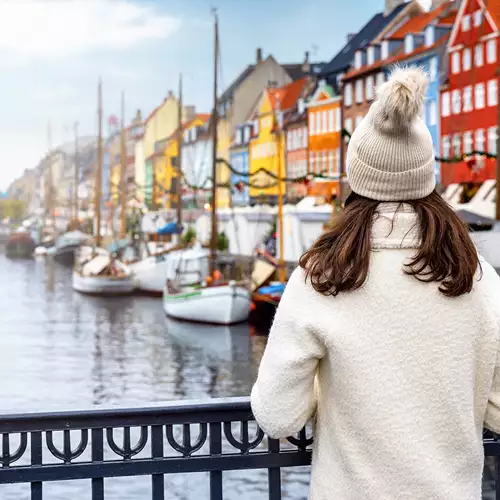 Copenhagen is not only very cold during winter, it also is at its most romantic. The streets are decorated with thousands of lights, skate rings can be found all over town and the lovely old houses dipped into snow. Plus, there are much fewer crowds at the best attractions to be found during winter.
Winter in the Danish capital is the perfect time to embrace 'hygge'! Hygge truly has become an iconic concept over the past few years. The Danish term generally refers to embracing a content lifestyle and cosiness, it is all about those little things that create a warm atmosphere, enjoying the good things in life. Think being all wrapped up in soft sweaters, drinking a cup of hot chocolate and reading a good book in front of a fireplace or at a cosy coffee shop surrounded by Christmas decor!
How to do that during your trip to Copenhagen? Easy! Stroll around the romantic capital, discover beautiful Christmas markets and marvel at the streets during the Copenhagen Light Festival. Afterwards, reward yourself and warm up with a visit to the sauna and sip on a cup of hot Danish mulled wine.
Christmas markets
Christmas markets, the so called Julemarkeder, go way back in Denmark and can be found all over the town, so it is impossible to not get into the Christmas spirit during this time of the year! Directly located in the old town, the Christmas market on Højbro Plads is considered to be one of the best in town. It follows the traditions of German Christmas markets, so you will find plenty of wooden stalls and shops here, offering typical sausages, special sweets, waffles and deliciously flavoured mulled wine that will keep you warm during the cold winter days.
Also the Tivoli Gardens turn into a magical winter wonderland! Stroll around snow-covered trees and the brightly lit gardens with its festive decorations that bring a festive twinkle to the dark winter days, tell Santa Claus your wishes for Christmas and warm yourself up with a hot drink at the amusement park's very own Christmas market while shopping for locally made crafts as well as knitted accessorizes and leather products. After New Year's Eve, Tivoli closes for the rest of the winter months, to prepare the park for spring.
Ice skating
Danes love to skate on ice – it is fun, cheap and fun for the whole family! A beloved activity for locals and tourists alike. While many inside ice skating facilities can be found in Denmark, skating on canals and iced over lakes directly or outdoor platforms in the city is even more fun! Most outdoor rinks allow you to either bring your own skates or rent some for a small fee.
Broen's Ice Rink at the harbour is 600m2 large and a popular meet up spot during the cold winter months. Here, you cannot only show off your ice skating skills but also participate in an extensive and fun program, ranging from disco on ice for kids, ice-hockey tournaments to St. Lucia singing on ice, all while enjoying a beautiful view over the harbour and accompanied by several food stalls.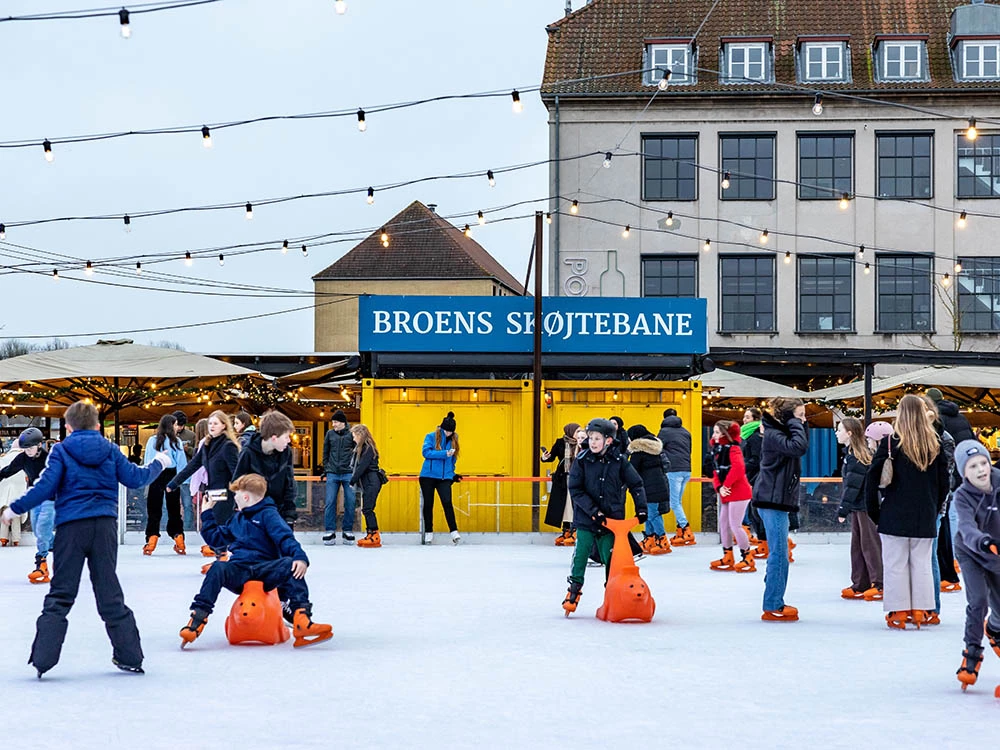 Go winter swimming
Yes, you read that right! Winter in Denmark is not all about hygge per se but also challenging your inner adventurer for that extra winter thrill! Jumping into a lake full of ice cold water has tradition in Denmark and is the perfect ritual in between sauna rounds or as an icy experience on its own to strengthen your immune system and feel truly reborn afterwards.
One of the most popular outdoor pools is the Islands Brygge Havnebad. This iconic spot is directly located in the city centre, you have the chance here to swim directly in the harbour with a view over Copenhagen's skyline. The water of the five pools is checked daily.
Copenhagen Light Festival
With winter returns the darkness and the cold but so does the Copenhagen Light Festival! The annual light festival takes place over three weeks in February and presents artworks made from and with light from both Danish and International artists and designers. From temporary sculptural elements around historic buildings and urban spaces, multisensory experiences to dynamic films – the light art is presented in many forms.
The impressive as well as expressive light art around the harbour and the inner city invites its observers to 'meditative experiences and common contemplations' while highlighting popular facades as well as hidden gems. The bright artworks will guarantee to spice up your experience of Copenhagen's city centre and brighten up the cold and dark winter days.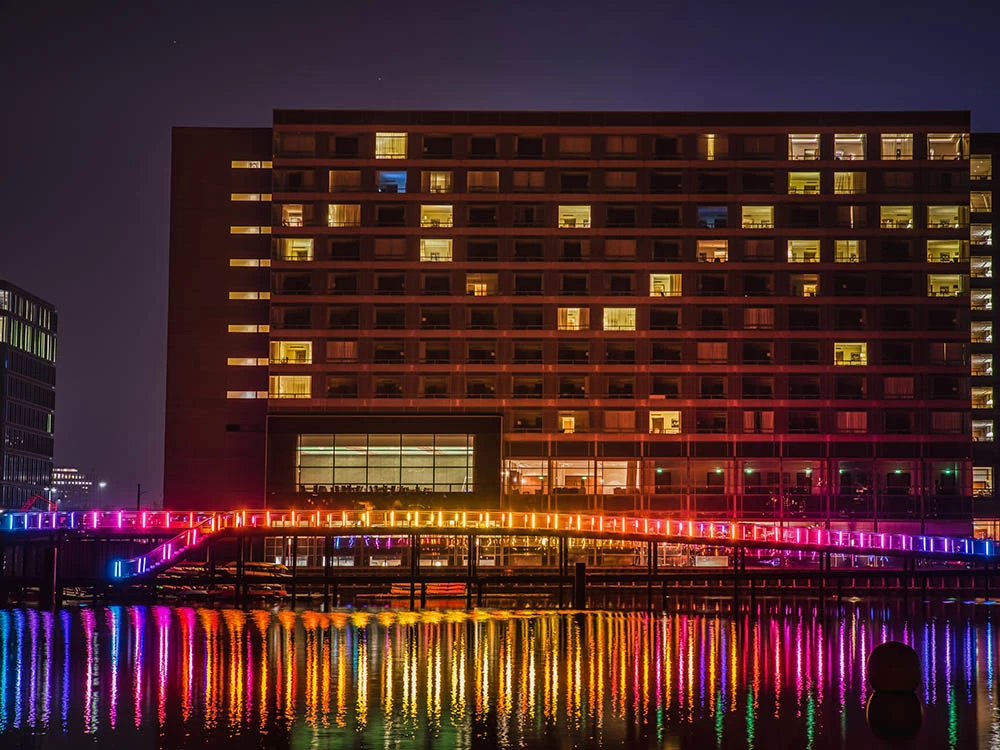 Seek shelter in Copenhagen's museums
Winter in Copenhagen can be just a little bit too cold and dark to want to spend your days outside. Reconsider staying indoors and explore Copenhagen's best museums! Art lovers will enjoy themselves at the Nationalmuseet, the National Museum, covering the Danish history, culture and people, as well as the National Gallery of Denmark with its vast collection of 260,000 historical art works and artefacts.  
Alternatively, you can enjoy the wonders of science and technology at the Experimentarium. Spread out over three floors, the interactive exhibitions and demonstrations satisfy children's as well as adults' curiosity with chemical and physical experiments.
The Natural History Museum of Denmark on the other hand is a three in one museum. It is home to the Geological Museum, the Zoological Museum and a Botanical Garden with over 13,000 plant species and a butterfly house. The museum's highlight is T-Rex Tristan Otto, a 66 million years old, 4 meters high and 12 meters long and almost intact skeleton of the famous dinosaurs.