The Dutch clog explained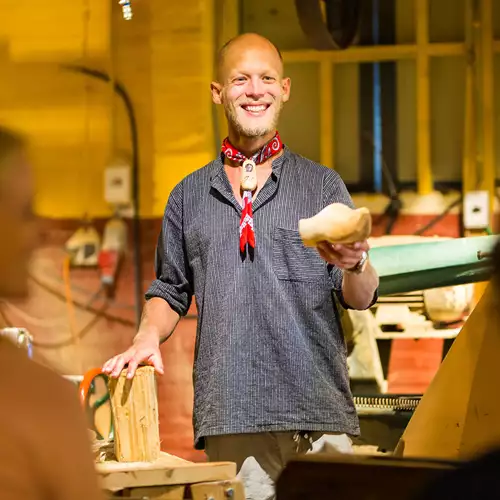 Just like windmills and cheese, the Dutch clog is a symbol of the Netherlands. Even though for foreigners it is hard to understand why you would want to wear typical wooden footwear. Time to learn all about the history and the usage of the clog. We'll also give you some insider tips about where to buy the shoe once you're in the Netherlands.
The history of the wooden shoe
The Dutch clog dates back to the middle-ages. In a big part of Europe, the clogs were worn by the working class and farmers. Because they are made from wood, they are very safe. If you drop something heavy your foot will be protected.
Traditional Dutch clogs are yellow or aren't painted at all. Sometimes they have simple decorations on the front. Nowadays, you can buy them in all sorts of colors and designs. Back in the day people whore plain clogs when working and for church man whore black ones and women plain ones painted with flowers.
Walking in clogs requires a special technique otherwise you'll lose the clog while walking. You have to curve your toes a little when you lift up your foot, so the clog stays on. In the modern-day Netherlands, almost no one wears clogs anymore. Some farmers and older people can still be seen wearing them.
Wooden Shoe Factory Marken
In the Netherlands, you can find shops that still make and sell clogs. One of them is the Wooden Shoe Factory in Marken. A local traditional clog maker who works every day to create the most beautiful clogs to be sold in the adjacent souvenir shop.
On the Countryside & Windmills tour, which departs from Amsterdam Central Station, a visit to the Wooden Shoe Factory in Marken is included. You'll get a demonstration of the making of a clog with a traditional steam engine and you'll even get the chance to try some on!