The best Dutch snacks at the Albert Cuyp Market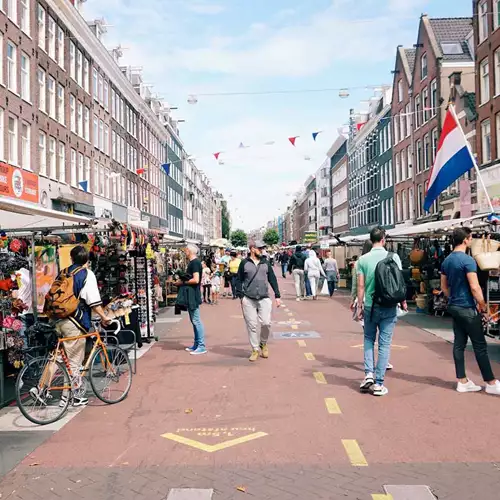 The largest and most popular street market in Amsterdam is the Albert Cuyp Market. Six days a week, part of the Albert Cuypstraat (between Ferdinand Bolstraat and Van Woustraat) turns into an open-air market with 260 stands offering everything from fresh fruit and vegetables to clothes and furniture, and of course lots of street food.
This market is the place where locals and tourist mix and chat with each other. The Albert Cuyp market is easily reached either on foot, by bike or with public transport; metro line 52 stop De Pijp takes you to one end of the market (just make sure to take the Albert Cuypstraat exit). Amongst the many stands here, you'll be able to try some of the best Dutch snacks and traditional Dutch foods.
Raw herring and other fresh fish at the market
While it is an acquired taste, raw herring (haring) is a popular Dutch snack and it has been ever since the Middle Ages. Herring is popular throughout northern Europe, each country has their own way of preparing and serving it. Dutch raw herring is smoked and salted and preserved in large barrels with a brine that contains vinegar as well as herbs and spices. The raw herring is served either as a whole (to be eaten by holding it by the tale and dangling above your mouth) or sliced into pieces, but always with onions and gherkins.
If this Dutch fish treat is too adventurous for you, you might want to try the kibbeling instead. A portion of kibbeling will give you chunks of fish, traditionally cod, battered and deep fried, and served with a choice of sauces such as garlic sauce and remoulade sauce. Both herring and kibbeling are widely available at the Albert Cuyp market as well as many other fish snacks.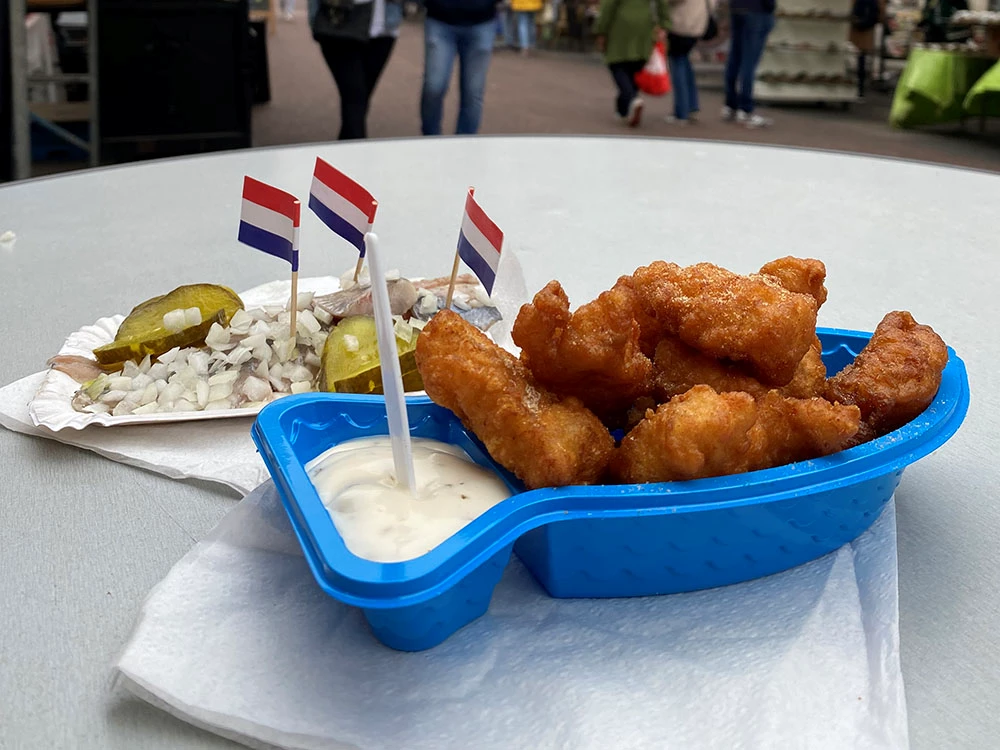 Poffertjes, aka mini pancakes
Small, round and puffy is the only fitting way to describe poffertjes, which go by many names for those who can't pronounce the Dutch word, including baby pancakes, tiny pancakes and puffers. They were invented in the south of the Netherlands when Catholic brothers tried to find a way to make the sacramental hosts less dry. The poffertjes are made with a batter from buckwheat flower, and are typically served with a slice of butter and lots of powdered sugar.
During the Christmas and New Year period you'll find poffertje stands all throughout the Netherlands, but you can find them year round at the Albert Cuyp market. The poffertjes are prepared in a special pan, with the fitting name poffertjespan, and made fresh for each customer. A small portion usually consists of around ten poffertjes served on a cardboard plate and with a disposable tiny fork.
Fries and kroketten
The Netherlands has its own fast food options to compete with the big international chains, both in the form of individual street food vendors and local chains. The Albert Cuyp offers both options, with multiple stands selling fries, croquettes and frikandellen spread throughout the market. The fries will be thick and freshly cut, and there are multiple choices for sauces, including mayo, ketchup, curry and saté sauce (peanut sauce). A typical Dutch option is the patatje oorlog which is french fries with mayo, saté sauce and onions.
At both ends of the market you'll find a snack bar from Dutch chain walk-up fast food restaurant FEBO. This chain is most notable for its automats or vending machines. The shops do have counters where you can order fries and beverages, but the various types of hamburgers, croquettes, frikandellen, bamischijfen, kipcorns and kaassoufflé can be pulled out of the wall of automats. A visit to a FEBO is a must during a visit to Amsterdam.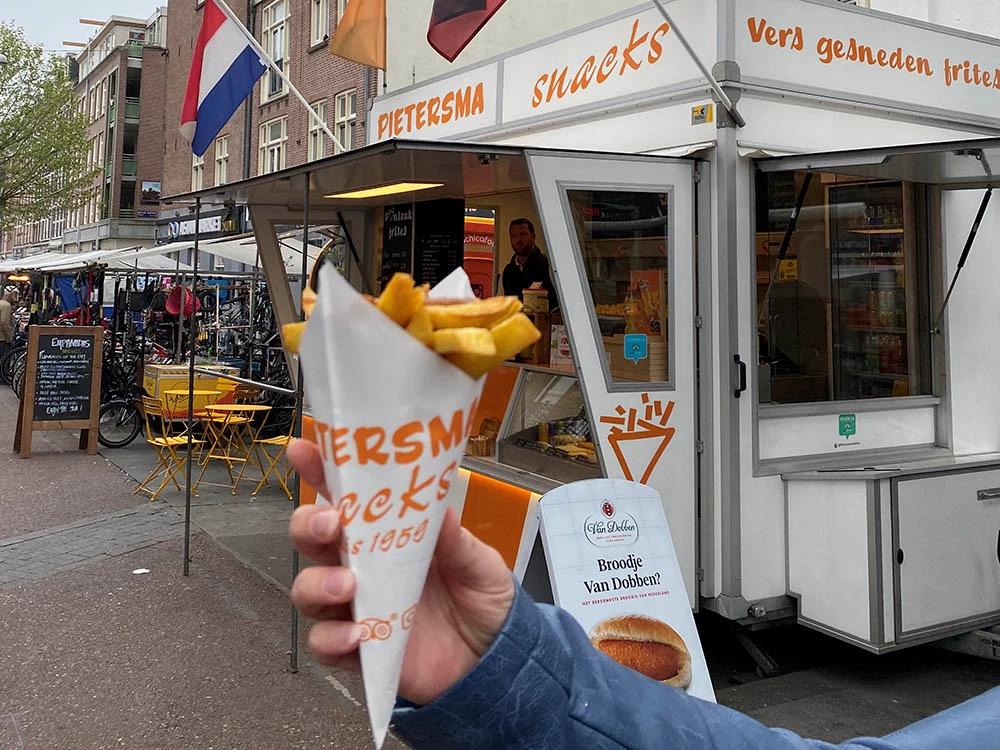 Stroopwafels
One of the best known Dutch treats around the world is the Stroopwafel. This delightful cookie is made from two layers of sweet baked dough held together by a caramel filling. These days you can get factory made stroopwafels anywhere from New York to Barcelona. But the best stroopwafels are the ones that are freshly made at the market, so you can eat them while they are still warm.
To make the cookie, a chunk of dough is pressed into a hot waffle iron until crisp. While the waffle is still warm, it is split in half to create the top and bottom wafer of the stroopwafel. Then the bottom half is covered with a warm caramel filling before the second wafer is placed on top. At the market you can get big and little stroopwafels, you can get them made the traditional way or with added chocolate spread on top, it's up to you.
And so much more snacks and treats!
The Albert Cuyp market offers plenty of other snacks and treats from all around the world as well. There are Vietnamese spring rolls, Spanish churros, tacos, South American empenadas, Turkish börek and much much more. And of course there were also other Dutch treats such as lots of Dutch cheeses and roast chicken drumsticks.
A final stop not to miss out on right by the Albert Cuyp market is HEMA. There are two ultimate favourite treats at this Dutch variety store-chain. The classic rookworst, a type of Dutch sausage in which ground meat is mixed with spices and salt, which has been made according to the same recipe since 1936, and the hotdog with their own vegan mustard sauce. The Albert Cuyp market is a great place to visit on an empty stomach, as you can easily fill it with plenty of delicious snacks.