Finding traditional Dutch snacks in Rotterdam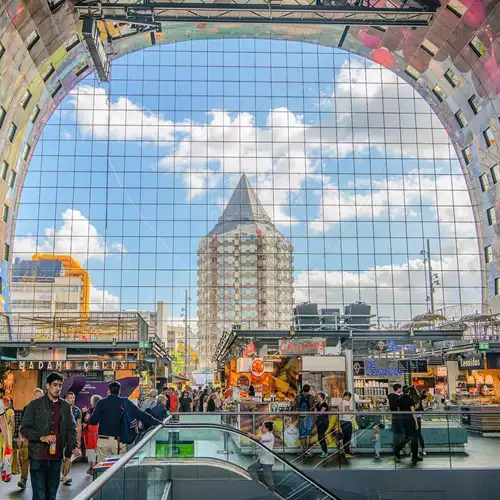 The Dutch aren't particularly well known for their fine dining, though the Netherlands does have several Michelin-starred restaurants. What the Dutch are better known for are their snacks and of course cheese. So what are the traditional Dutch foods you have to try when you visit Rotterdam? We're here to tell you.
Hagelslag (Chocolate Sprinkles)
For the Dutch this is a breakfast food, the rest of the world has their doubts about that idea. But when you visit the Netherlands, you should at least try it once for breakfast. Butter up your slice of bread (not toasted) and cover it in chocolate sprinkles, place another slice of buttered bread on top, and dig in.
Any hotel that offers breakfast should have this option but every supermarket can also supply you with the necessary ingredients. Don't be surprised by the number of different kinds of hagelslag. There are the standard three chocolate types, milk, pure and white, but there are also fruit flavours in all the colours of the rainbow.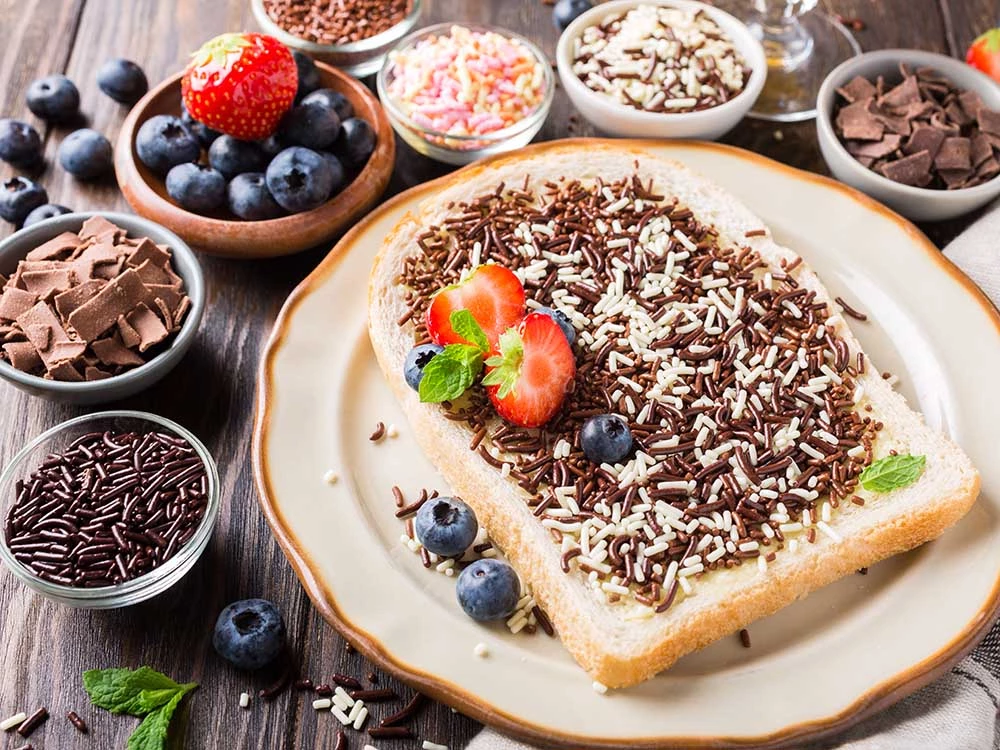 Apple pie
The traditional Dutch appeltaart is often accompanied by a cup of hot coffee, perfect for that mid-morning coffee break. Traditional Dutch apple pie comes with a dollop of whipped cream, has a crumbly crust and the filling consists of cinnamon flavoured apple chunks. The irresistible aroma make it one of the most sought-after treats in the country.
Some of the best apple pie in Rotterdam can be found at Dudok Rotterdam. This city café and brasserie opened its doors over 30 years ago. It is a lively meeting place, where you enjoy breakfast with a newspaper at the reading table, delicious lunch and dinner dishes, but also for a nice piece of pie.
Raw herring
This one is an acquired taste, even amongst the Dutch. You either love it or hate it. But it has been a staple dish in the Netherlands since the Middle Ages and therefor should at least be tried before you judge it. There are three traditional ways to eat this Dutch delicacy all come with chopped raw onion and or pickles, on a sandwich, sliced into pieces eaten with a toothpick, or pick it up by the tail, lift it up, tilt your head back and take a big bite.
You can find Herring stand on almost every street corner. In early June the first catch of the year, Hollandse nieuwe haring, hits the stands. Many of these stands are dedicated solely to herring but several also offer other fish options, such as kibbeling, fried lekkerbekjes and smoked eel.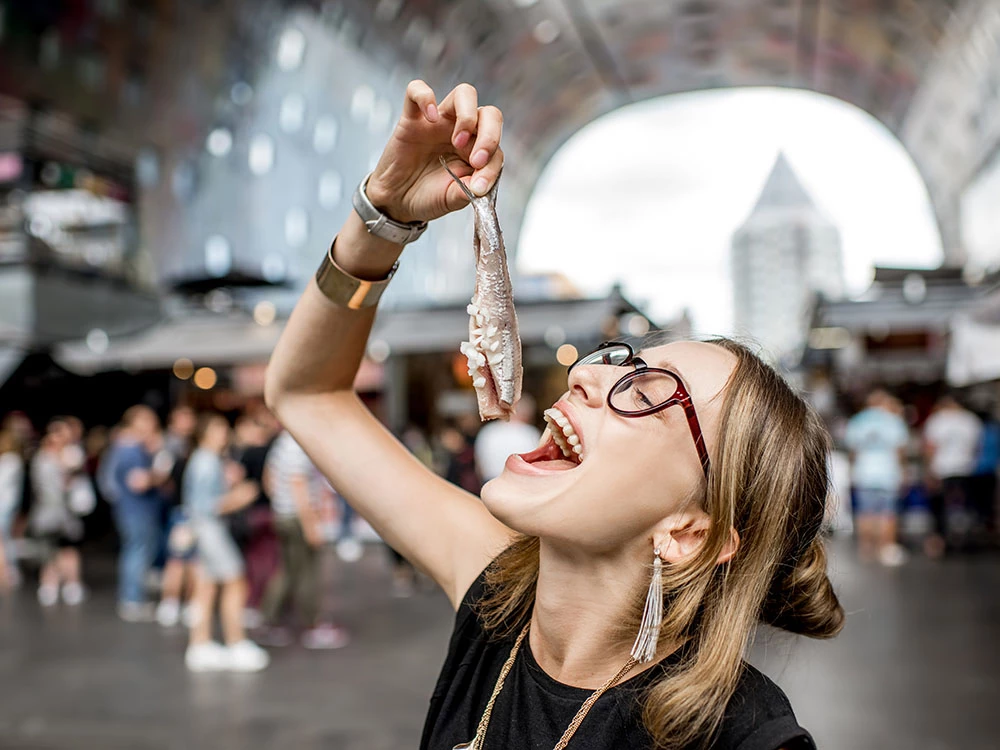 Stroopwafel
If apple pie is a bit too much for you to handle mid-morning, then you might want to try a stroopwafel with a cup of tea instead. A stroopwafel consists of two thin waffles with caramel syrup in between. Place your stroopwafel (if it is not fresh and warm) on top of your steaming hot cup of tea, so that the syrup warms up and becomes liquid again.
Some great places to get stroopwafels in Rotterdam include Didi's Stroopwafels, where you can personalise your fresh stroopwafels with fresh chocolate and different kinds of toppings. Or head to Stroop Rotterdam, where they've devised all sorts of tasty twists on the original stroopwafel recipe. The Market Hall also offers delicious stroopwafels at Goudstroop, where you can also find stroopwafel liqueur and other stroopwafel related pastries.
Kapsalon
This fast food dish was created in Rotterdam in 2003, which makes it a must-try on your visit to the city. The word actually means hairdressing salon and refers to one of the inventors of the dish who was a hairdresser. The kapsalon is the product of Dutch multiculturalism, combining elements of dishes from multiple cultures.
A kapsalon consists of a layer of french fries placed into a disposable metal take-away tray, topped with döner or gyros meat, covered with slices of Gouda cheese, and heated in an oven until the cheese melts. Then a layer of shredded iceberg lettuce is added, dressed with garlic sauce and sambal, a hot sauce from the former Dutch colony of Indonesia. You can try a kapsalon for yourself at most snack bars in the city.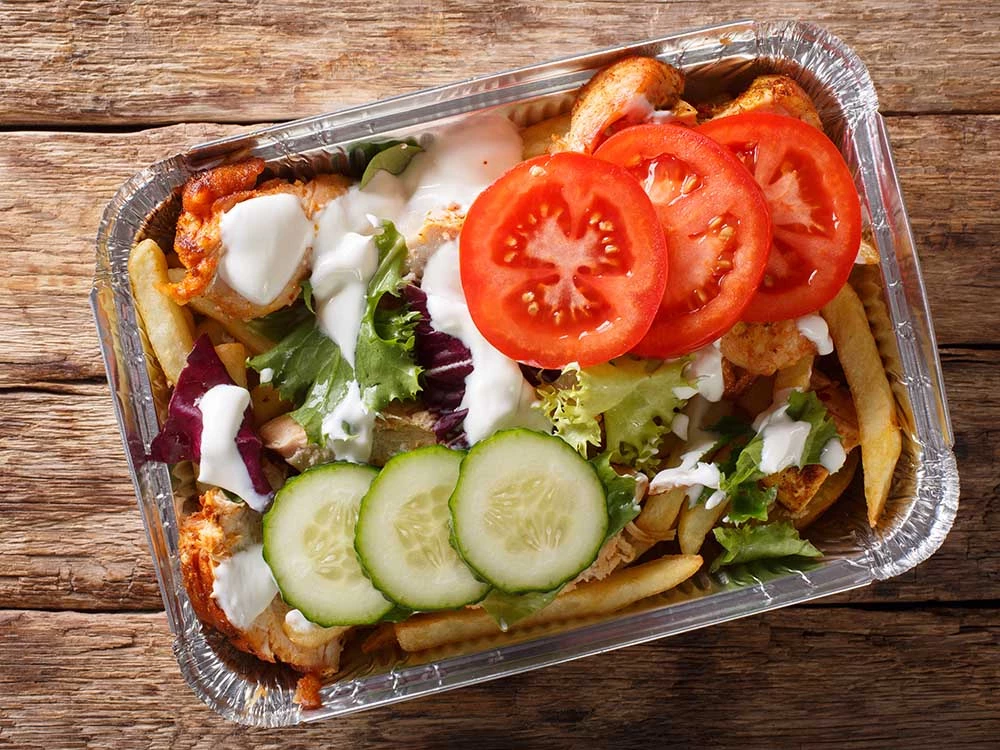 Poffertjes and pancakes
Poffertjes are a traditional Dutch batter treat that resemble baby pancakes but much fluffier. They are made with yeast and buckwheat flour and typically served with a lump of butter and powdered sugar. You'll often find a poffertjes stand at the weekly markets in the city but there are also permanent locations in the city, such as Poffertjessalon Seth next to the Market Hall.
Dutch pancakes are much flatter and larger than American pancakes but thicker than French crepes. The Dutch often eat their pancakes for dinner and can be topped with a variety of items, from powdered sugar or syrup to slices of bacon, cheese, apple or raisins. A great place to try these in Rotterdam is the Pannenkoekenboot. During this pancake cruise you can enjoy unlimited pancakes while cruising on the Nieuwe Maas in Rotterdam.
Bittergarnituur (fried finger food)
At the local pub, when the Dutch want something to snack on while they enjoy a beer or glass of wine, they will often order a serving of bittergarnituur for the table. What exactly you'll get differs per bar but it is always deep fried finger food. Perfect to put a layer of greasy food in your stomach so that the alcohol doesn't go straight to your head.
Common staples of the bittergarnituur include springrolls, mini chees souffles, chicken nuggets and bitterballen, the little siblings of the Dutch kroket. On Friday afternoons, the Dutch often leave their offices with a group of work friends for a Vrijdag Middag Borrel, or afterwork drinks. During these the plate of bittergarnituur will almost always make it to the table.