The best Christmas markets in Berlin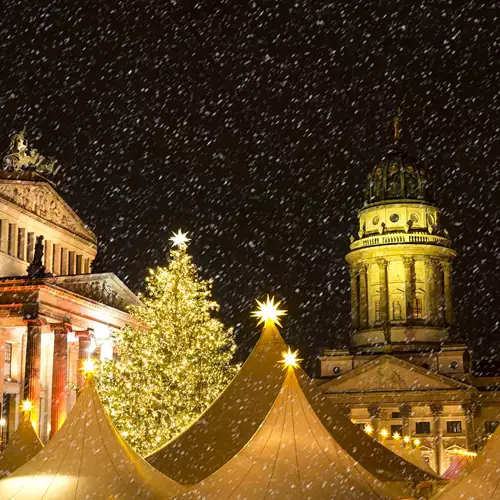 Mariah Carey's 'All I want for Christmas' has re-entered the music charts which means it is time for the Christmas markets in Berlin to start. Every year, there are over one hundred Christmas markets in Berlin, choosing which one to go to can be a challenge. These are some of our favourites throughout the season!
Winter World on Potsdamer Platz
One of the first Christmas markets to open up for the season can be found in the heart of the city at Potsdamer Platz. From 28 October until January 1st, the Winterwelt offers all sorts of fun activities along with the traditional market stalls. Because Winter World on Potsdamer Platz offers more than just a Christmas market it is a great place to visit with the whole family.
One of the most popular activities at Winter World is the 12-metre high and 70-metre long toboggan run, which you can enjoy for a small fee. But you can also slide around on the ice rink (free if you bring your own skates), or try your hand at curling. To create a true winter party atmosphere, there will also be live music and DJs on the weekends.
The Christmas market at Potsdamer Platz is a great place to buy gifts for your friends and family. Here you'll find handmade gifts, Christmas decorations and children's toys. But of course, you can also enjoy delicious food and drink, such as bratwurst, roasted almonds, mulled wine, crêpes and more.
Advent market at Alexanderplatz
Compared to other Christmas markets, the one on Potsdamer Platz starts very early. Others open later, such as the Advent market at Alexanderplatz, which starts on 27 November and ends on Boxing Day. This market is one of the biggest and busiest in all of Berlin, with over 100 stalls you can surely find some amazing presents here.
As you walk through the market, you will find yourself surrounded by the delightful smells of mulled wine and gingerbread. The Christmas market at Alexanderplatz also features a sight unlike anywhere  else: a Christmas pyramid decorated with over 5000 lights. When you get too cold outside, you can head inside the pyramid for drinks and snacks and great views from the upper level.
Around Alexanderplatz you will also find plenty of fun Berlin attractions to visit if you want spend some more time inside. For a great view over the city, you can head up the Berlin TV Tower. And if you prefer to keep your feet on the ground, attractions such as BODY WORLDS, Little Big City and Illuseum.
Christmas Magic at Gendarmenmarkt
Most years, this market sets up on beautiful Gendarmenmarkt. However, due to construction this year, Christmas Magic takes place on Bebelplatz, just 5 minutes from Gendarmenmarkt. This square features the State Opera House and St. Hedwig's Cathedral, which will create a beautiful backdrop to the market.
The Weihnachtszauber is known and beloved for the variety of artistic offerings to be found at the stalls, such as handmade candles, toys and decorative pieces. There is a large tent where crafters give demonstrations, including wood carvers, comb makers and tailors. And along with the traditional food and drink options, there are also more unusual options to choose from.
The heated and covered restaurant area of the market is a cosy place where you can enjoy excellent gourmet cooking. The Weihnachtszauber starts on 27 November and ends on 31 December with a big New Year's Eve party and incredible fireworks display. If you visit this Christmas market on a weekday between noon and 2 in the afternoon, you can enter for free.
Royal Christmas market at Charlottenburg Palace
Against the magical backdrop of Charlottenburg Palace arises a Christmas market from 27 November until the end of the year. The items for sale from the more than 250 vendors are often nostalgic and traditional. You'll find crafts such as nativity figurines and tree decorations, as well as sweets such as stollen, spritz biscuits and marzipan loaves.
As the day ends, the palace, parts of the gardens and the Christmas market itself are illuminated by festive lights. The market includes special activities for the smallest visitors in front of the old orangery. Children will find themselves delighted at the historic and nostalgic fairground attractions, including a big wheel, several merry-go-rounds and tiny rollercoasters.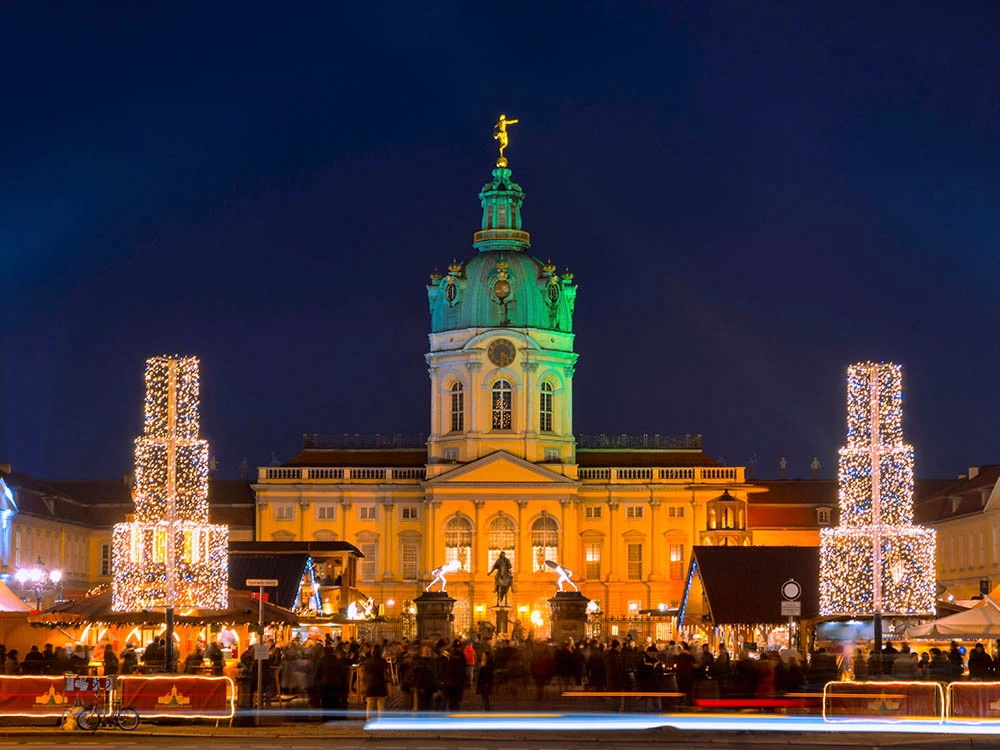 Berliner Weihnachtszeit at City Hall
Christmas time around Berlin's city hall starts on November 27th and lasts into the new year on January 7th. What makes this Christmas market famous is its 50-metre high Ferris wheel, which during Oktoberfest stands in Munich. But there is more to Berliner Weihnachtszeit, such as historic carousels and a miniature train ride through a snowy fairy tale forest.
The actual market part of this event sets up around St. Mary's Church and will take you back to the Middle Ages. The medieval bakery serves fresh bread and in the tavern, the landlord offers hot mead served in clay jugs. Another not-to-miss attraction at the Berliner Weihnachtszeit is the 600 square metre ice rink at Neptunbrunnen, where you can rent skates for a small fee.
Internationally themed Christmas markets
Among the many Christmas markets in Berlin, there are several that have an international theme. For instance, there is a British market at St George's Church on 9 December, where you can enjoy mince pies, hot toddies and classic Christmas puddings. These speciality markets are often only up for a day or two, so make sure to keep that in mind when planning your trip.
On the 25th and 26th of November, you can visit a Finnish Advent Bazaar at the Finland Center on Schleiermacherstraße in Kreuzberg. Here you can try all sorts of delicious treats such as Glöggi, smoked salmon, reindeer sausage and home-baked cookies. A week later, the Swedish Christmas Bazaar sets up on Landhausstraße, in Wilmersdorf, offering Swedish treats, handmade gifts, Christmas decorations, blankets and knitwear.