What is the best canal cruise Amsterdam has to offer?
Exploring the attractions and museums in Amsterdam is an incredible fun challenge but one thing you cannot miss are the iconic canals. There are more than 100 kilometers of canals, 90 islands and over 1000 bridges in the old city centre. And the best way to explore this UNESCO World Heritage site is by going on an Amsterdam canal cruise.
But what is the best canal cruise Amsterdam has to offer? There are several different options to choose from. These are our best sellers you don't want to miss out on.
The 4 most interesting Amsterdam canal cruises
#4: The classic Amsterdam Canal Cruise is a not-to-miss experience for any visitor to the city. Whether you take this cruise during the day or in the evening, it is the perfect way to introduce yourself to the Dutch capital and get a feel for the city.
#3: On number 3, we have a fun and easy way to make your way around in Amsterdam: Hop On Hop Off. Unlike a regular Amsterdam canal cruise which has a fixed itinerary, Hop On Hop Off lets you customize your sightseeing experience. You can take unlimited canal cruises and hop off whenever you see something interesting. When you want to keep moving, you just catch the next boat!
#2: The New York Pizza by LOVERS cruise is a fantastic choice for families and groups of friends. As the name suggests, it includes a meal completely consisting of a delicious pizza (choose from a menu when you book your tickets) as well as unlimited drinks and for desert a Chocolate Chip Cookie Dough ice cream.
#bonus: A special bonus mention, goes to the Amsterdam Light Festival canal cruise. In the dark winter months, the city is lit up by beautiful light art and this canal cruise is the best way to see them. The festival is popular with locals and tourists, and tickets tend to sell out quickly.
#1: The Amsterdam Dinner Cruise is perhaps the most unique canal cruise Amsterdam can offer. You'll cruise through the city while enjoying a delicious four-course meal, choose between a meat, fish and vegetarian main, to make sure the meal is exactly as you want it.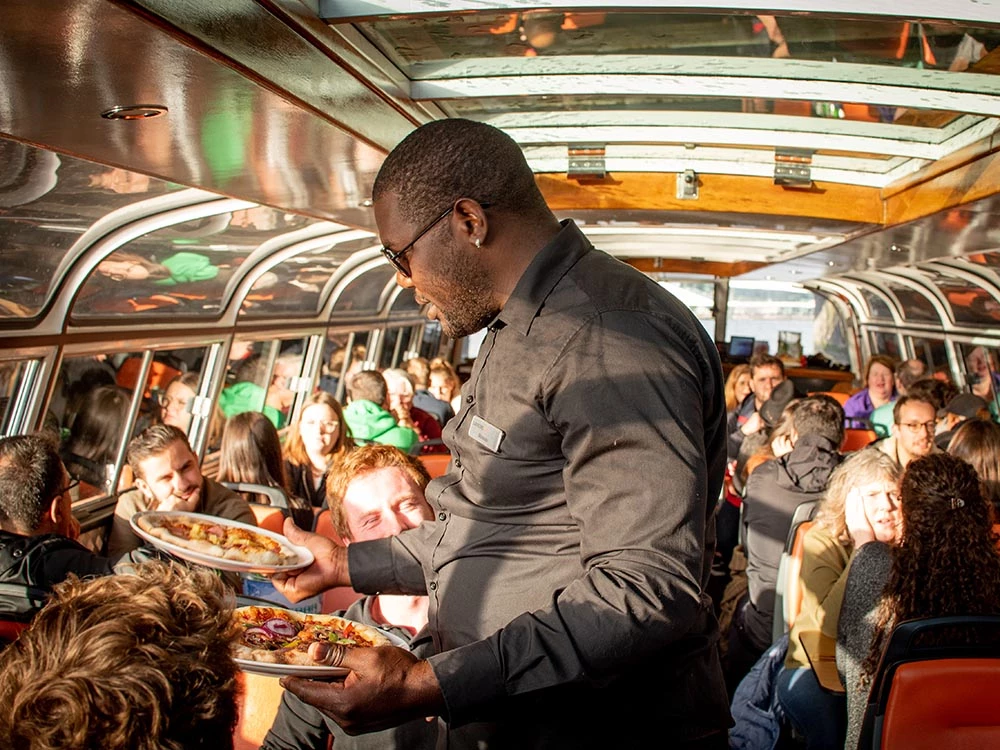 Weather in Amsterdam
The weather in Amsterdam can play a role in your experience. Amsterdam's weather changes a lot from season to season (cold in the winter, temperate and windy in the spring and autumn, and hot during summer). Regardless of the season, the weather in Amsterdam can also change quite suddenly. So besides checking the forecast when packing your bags, make sure to bring suitable clothing for any occasion!
All kinds of canal cruise Amsterdam tickets are available on Tours & Tickets. So don't miss out and go on a canal cruise, Amsterdam awaits!