The top 3 places to find tulips in Amsterdam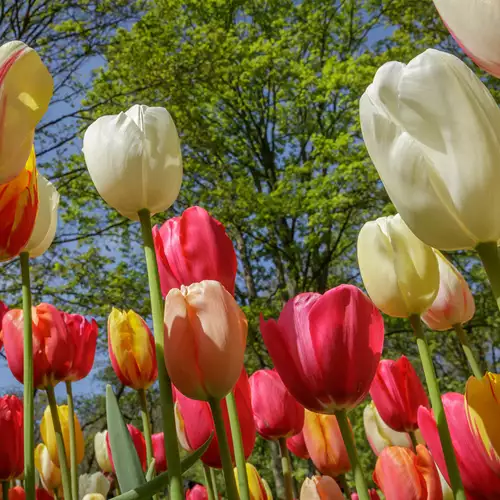 Amsterdam's tulips are world-famous and one of the most iconic symbols of the Netherlands. This beautiful flower was originally introduced from Turkey in the late 16th century and can be appreciated in Holland every year from mid-March to mid-May. While you can certainly find plenty of tulips in Amsterdam, the most common image people have is that of long colourful tulip fields, which are almost exclusively found in the countryside just outside of Amsterdam. But what are the best places to find tulips in Amsterdam and its surroundings?
#3 The Amsterdam Tulip Festival
The Amsterdam Tulip Festival is a combined effort from several museums and institutions like the Hortus Botanicus botanical garden, which plants more than 500,000 tulips of all shapes, colors, and sizes at various locations in the city. The Amsterdam Tulip Festival takes place during April and is one of the top opportunities to see tulips in Amsterdam if you're in town during the spring.
#2 Flowermarket
The famous floating flower market (Bloemenmarkt) was established in 1862 and is the only one of its kind in the world. You can find all kinds of flowers as well as bulbs and tulips during the spring. It's the best place to buy tulips in Amsterdam.
#1 Keukenhof
Although technically not in Amsterdam, Keukenhof is only a short ride away and definitely the number one place to visit if you're interested in tulips. With over 7 million tulips, it is the largest flower garden in Europe. The design of the Keukenhof gardens is different every year and it is visited by millions of people from all over the world. Due to the fleeting nature of the flowers, it's only open for a limited time from March through May. 
Weather in Amsterdam
When the tulips in Amsterdam are at their prime, the weather in Amsterdam can be quite pleasant but can also turn very suddenly. Because of the unpredictable nature of the weather in Amsterdam, we advise you to pack for all possibilities and bring a warm (preferably waterproof) coat just in case.