Great things to do in Stockholm with kids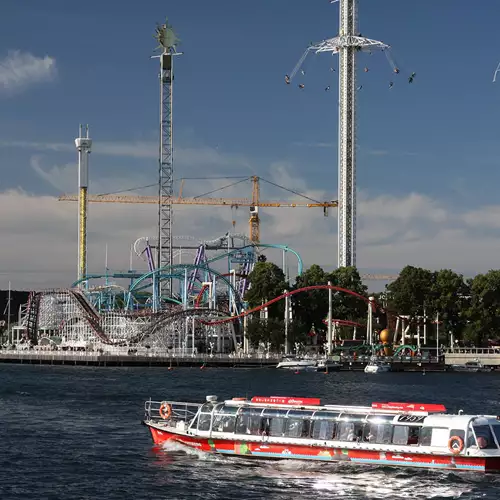 Stockholm is one of those cities that is fun for both kids and grown-ups. Many activities in the Swedish capital cater to all ages so that adults will not have to just sit and wait while the children play. This family friendly city offers many fun activities, here are eight great things to do in Stockholm with kids that are also fun for adults.
Tekniska Museet
The Swedish National Museum of Science and Technology, or Tekniska Museet, is a haven for gadget lovers as it highlights the most cutting-edge developments in technology. Here adults are reminded how extraordinary much of the technology we use every day really is, while kids can experiment their way to new smart ideas.
The museum takes its visitors on an exciting journey from the infancy of industry to grand visions for the future. You can experience exhibitions on inventions, energy and the environment as well as other areas of interest in a fun and inspiring way. The MegaMind exhibition, for example, has close to 50 stations to explore how you come up with a new idea and how you can train your brain to become even more creative.
Junibacken
A fantasy world for kids and adults to enjoy. Junibacken is filled with nostalgia for many adults and great fun for kids. The interactive museum revolves around some of Scandinavia's heroes from children's literature. Here you and your kids can experience a fantasy world full of music, theatre and lots of magic.
Visit Moonimvalley, which is based on the books around The Moomins by Tove Jansson, where visitors can sail out to sea and discover all the astonishing things hidden in the valley. Or step into the colourful world of Astrid Lindgren's Pippi Longstocking, presenting the very best of Pippi's wild and wonderful life. Or get on the Story Train and hear Astrid Lindgren herself tell you about Madicken, Emil and the others on an enchanting journey between the Swedish summer of fairy tales and stories and the roaring Karma Falls.
Kayaking
If you are looking for a fun, physical activity to do with your kids we recommend kayaking. Kayaking is a great way to discover Stockholm as it is a city consisting of islands. For a guided tour, there is often a minimum age for kids. But if you want to head out on your own, this can be done by all ages.
Stockholm Adventure offers a great City Kayak Tour, with local, qualified and experienced guides, who will tell you stories and offers insights into local customs, history, culture, and lifestyle. Skärgårdens Kanotcenter offers a gorgeous 4-hour archipelago kayaking tour around Vaxholm, with its 16th century fortress and traditional fishing cottages.
Skansen
For a blast from the past, Skansen is the place to go. It is the world's oldest open-air museum, beautifully located on Djurgården, and definitely one of the most exciting and unique things to do with kids in Stockholm. Here you can experience living history, as you can wonder around historic homes and see staff dressed in period dress as they demonstrate crafts such as glass blowing and pottery.
Skansen is also home to the Stockholm zoo which has wild Nordic animals including bears, wolves and lynx, a children's petting zoo with domestic animals such as goats and chicks, and two indoor aquariums, Skansen Akvariet and the Baltic Sea Science Center.
Gröna Lund
Sweden's oldest amusement park, Gröna Lund, is uniquely located on the water's edge and just a stones throw away from Skansen. It is a must-do attraction when visiting Stockholm with children. Here you can discover 30 exciting rides and a colourful variety of food and snacks at the six restaurants in the park. During the summertime, the park also hosts concerts and special performances catering to different age groups, so that the whole family will enjoy a visit here.
This amusement park has something for everyone. Thrill seekers can go upside down on the 34 meter high Monster rollercoaster, hurl towards the ground from 80 meters with 100 kilometres per hour on the Giant Drop, compete with your family on the Intense Flatride or go for a ride on the classic Wave Swinger! There are also plenty of fun rides that are less intense, such as the Ghost Train, Fun House, Music Express and Swirling Tea Cups.
Fjärilshuset Haga Ocean and Hagaparken
At over 3000 square meters, Stockholm's Butterfly House offers a great opportunity the whole family to marvel at thousands of butterflies, and walk over bridges and past waterfalls. Fjärilshuset Haga Ocean, also features an aquarium with a coral reef project that will surely amaze kids of all ages, and Sweden's largest shark tank. The 30 meter long aquarium holds 1,2 million litres of water and is home to two shark species, the Black Tip reef shark and the Sandbar shark.
Fjärilshuset is surrounded by Hagaparken, which many consider the finest park in Stockholm. The park is vast, with a huge lake where you can swim in the summer and fish all year round. Hagaparken is Sweden's foremost example of an English landscape park, and one of Sweden's most popular recreational areas. Cafés and restaurants are scattered throughout the park and if the weather is warm you can picnic in one of the fields.
Stockholm Ghost Walk
If you are looking for a Gamla Stan tour unlike any other, the Stockholm Ghost Walk might be exactly what you are looking for. The tour is suitable for older kids (aged 7 and over) who aren't easily scared. This 90-minute tour takes you through Stockholm's Old Town, Gamla Stan, it is held in Swedish and English and are tailored to whether or not there are children in the group.
During the tour you can expect tales of murders, myths, mysteries, executions, assassinations, diseases and ghosts. These gruesome stories are told as you walk along dark alleyways, through forgotten courtyards, and across cobbled streets. You will have the opportunity to see, touch, smell and taste the history.
Royal Armoury
In case you have doubts about whether the Ghost Walk is appropriate for your kids, a different historic experience might be better suited for your family vacation. The Royal Armoury (Livrustkammaren) is the oldest museum in Sweden and one of the best things to do with children in Stockholm. Once it was meant as a place to preserve the royal clothes used by King Gustav II Adolph on his campaign in Poland, but today it serves as an interactive lesson in Swedish history.
Positioned in the dark cellar of the Royal Palace, the museum houses elaborate costumes, glittering carriages, as well as clothes and playthings once belonging to the royal children. In the Children's Armoury, you can hold and feel, smell and listen to Sweden's royal history. And perhaps most importantly, children can dress up as Kings, Queens and Knights!