Great attractions in Berlin you don't want to miss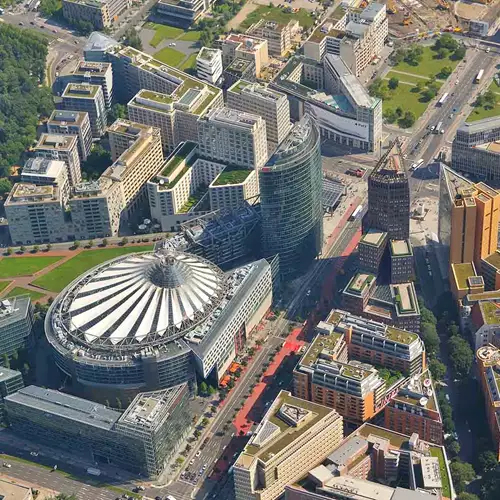 Anything is possible in Berlin, which is maybe best known for its striking contrasts. The many attractions Berlin is home to, are just as contrasting which means there is an attraction for every visitor to the city. For young and old, high above the ground and deep under ground, Berlin has something for everyone.
Incredible views of the city
Berlin has several great view points which give you amazing panoramic views across the city. The TV Tower is perhaps the most famous of these points. The 368-meter tall tower on Alexanderplatz not only offers amazing views across the city, you can also choose to include a meal in your ticket to the top of the city.
Over on Potsdamer Platz, in just 20 seconds a lift will whisk you up to the 24th-floor of the Panoramapunkt Berlin. The fastest elevator in Europe will take you up high above the city, where you'll have spectacular views of the city's most famous landmarks. Here you can explore the open-air exhibition "Views of Berlin" and visit the Panoramacafé on the rooftop terrace.
A different look on history
Berlin is a city filled with history, throughout the city you'll find plenty of landmarks and sights to remember the past, such as Checkpoint Charlie, the Berlin Wall and memorials. At the foot of the TV Tower you can journey through nine centuries of history with the help of virtual reality. Berlin's Odyssey, is an innovative 15-minute long, VR-experience which features amazing historical reconstructions and hyper-realistic animation.
For a completely different look at Berlin's history, head to the Berlin Dungeon. Here you'll travel through the murky past of the German capital. With 360° sets, 10 interactive shows, two underground rides, state of the art theming and special effects, you can lose yourself in fear or mirth.
Unexpected pictures in unlikely places
When you visit Madame Tussauds in Berlin, you'll meet people you never thought to come close to. Get ready for the catwalk with Heide Klum and check your make-up while sitting right next to Kendall Jenner. Walk through a football stadium tunnel next to Lionel Messi and train on the pitch besides Joshua Kimmich, Manuel Neuer and Oliver Kahn.
At Illuseum Berlin, you'll find yourself defying the laws of physics while you take lots of fun pictures. In this topsy-turvy world of mind-bending optical illusions, everything is not what it seems. Here you are assured of an experience unlike any other with your friends and family.
Berlin on a smaller scale
Sometimes a city as large as Berlin can be too much to take in all at once. A great place to get a better overview of Berlin is at Little BIG City, where you can explore a miniature model Berlin at 1:24 scale. The model has interactive activities so that visitors can join in action, as well as special effects and great projections.
The LEGOLAND Discovery Centre also features a miniature Berlin, though of course this one is created completely out of LEGO. Here you can also take a tour of the LEGO factory and create your own LEGO brick. It is the perfect attraction to visit with kids and adults who want to embrace their inner child.
Above and below the water
Unlike in many other countries, children in Germany can enter bars and pubs (if they are accompanied by an adult). The Berlin Icebar is one bar that is fun for the whole family as you are taken on an adventure to the Arctic. Step out onto the ice, surrounded by ice sculptures and a bar with drinks!
If you prefer to spend time with live under water, then SEA LIFE Berlin is the place to go for you. Here you can travel underwater, following the river Spree all the way to the Atlantic Ocean. You'll meet over 5000 sea creatures along the way, including rays, sharks, sea horses and clownfish.