Get ready to celebrate Stockholm Pride in 2022
Like in other cities, in 2022 Stockholm is ready to celebrate Pride to the fullest. From 1 to 7 August, the city will take a stand, dare to be uncomfortable, spread love and joy, get back up and stand proud together. All over the city there will be music, parties and workshops as restaurants, museums and clubs join in the celebrations. Keep reading for our guide to the best Stockholm Pride events.
Time to profess colour
In 2022, the theme for Stockholm Pride is Time to profess colour. The goal of the theme is to become a united LGBTQ movement, with lots of allies, for everyone's right to love, be their true self, and to live the life they want. Everyone is called upon to profess their colour, their support, in their day to day lives, at work and sport associations, and while attending activities during Stockholm Pride.
Stockholm Pride places to be
So where do you go in Stockholm to celebrate Pride and join in activities? The main Pride festival area is known as Pride Park, which sets up in Östermalm's IP. Between Wednesday 3 August and Saturday 6 August, every night will feature fantastic artists, stands, restaurants and bars for music and parties.
Pride Park is in many ways the heart of the festival, where festival-goers, exhibitors, performers and volunteers come together to create Stockholm's biggest festival! The main stage is set up in the middle of Pride Park and sees both the opening and closing ceremonies, as well as the opera sing-a-long, drag and burlesque shows and the ever popular Schlager party which will be full of surprises.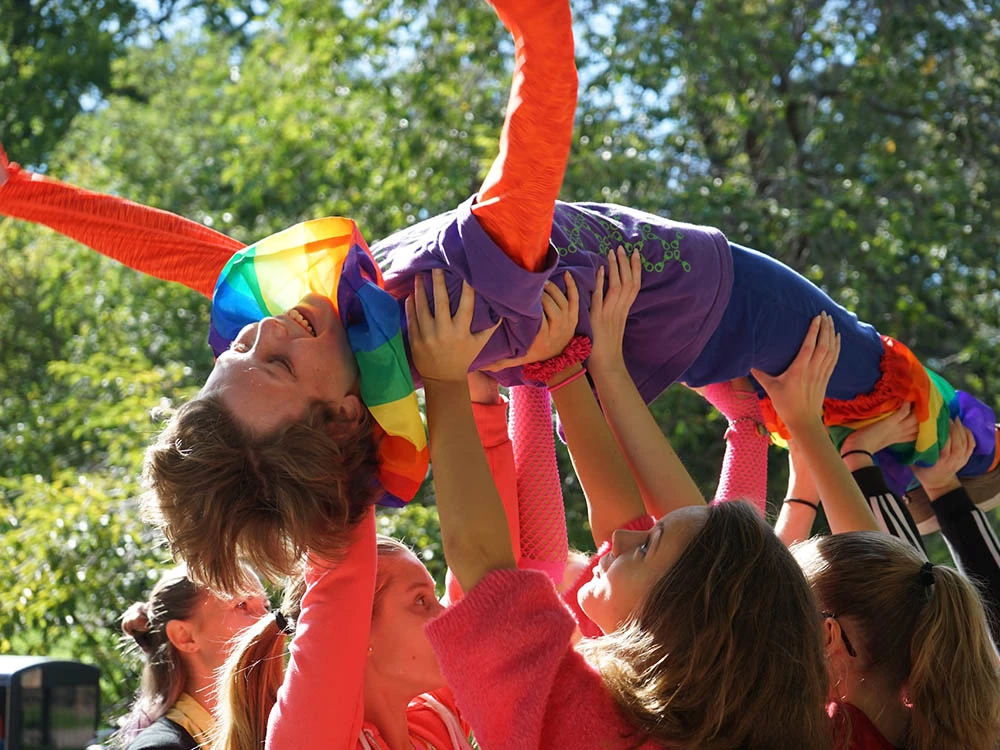 Throughout Pride Park there will be restaurant tents with classic festival food, though focussed on quality and green options, and a range of food trucks with flavours and influences from around the world. The Kinky Quarter in Pride Park is entirely dedicated to fetish, leather and BDSM. The quarter is intended to be a safe place for play, exploration and curiosity. The area is open to those over 18 years of age.
Pride House is the home of democratic discourse and important meetings during Stockholm Pride. In 2022, Pride House takes up residence at the Clarion Hotel and opens its doors every day from Monday 1 to Friday 5 August from noon to 6 pm. Here organisations, associations, companies, political parties and individuals can meet and exchange experiences and talk about issues and challenges for the LGBTQ community. And you can also join in workshops, author talks, debates and visit an art gallery at Pride House.
Throughout Stockholm Pride there will be special activities for the young, under the banner name of Pride Young, with dedicated lectures at Pride House and theme days at Lava. Lava is the creative heart of Stockholm Pride, set in Kulturhuset in the centre of the city, where you can make pins, paint, borrow books, print shirts and much more.
Finally there is the big Pride Parade on 6 August, which will wind its way through the city centre from City Hall to Pride Park, along a 4.5 km long route. The Pride Parade in Stockholm is Scandinavia's largest with around 50.000 participants and 500.000 spectators in the crowd. The parade is a joyful and colourful manifestation of love for human rights and a demonstration for everyone's right to love and be who they are.
Other activities to look forward to during Stockholm Pride include a Queer Stockholm tour, which gives a historical glimpse at the sexual culture of the city and the diverse lives of LGBTQ people in Stockholm, from the 19th century onwards. Södra Teatern will once again organise Transfesten, a party for trans people and allies, and Nalen will be the site for Moxy Pride with 2 dance floors where everyone can come to celebrate Pride, be proud and most importantly dance!