Copenhagen by bike: Exploring Copenhagen's bicycle culture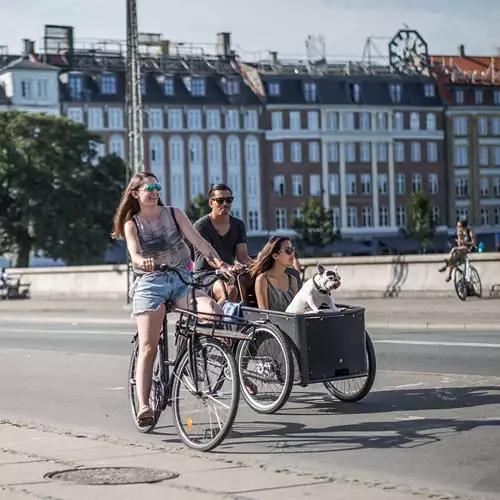 Copenhagen, the capital of Denmark, is renowned for its progressive and environmentally conscious lifestyle. One of the key elements that contribute to its unique charm is the city's bicycle culture. With its extensive network of dedicated bike lanes, cycling infrastructure, and a population that embraces cycling as a way of life, Copenhagen offers an unforgettable experience for both locals and tourists alike.
Copenhagen is one of the bicycle capitals of the world
Along with Amsterdam, Copenhagen is one of the shining examples of cities that have embraced cycling as a way of life. Both cities have more bikes than people and locals use them for everything from commuting to leisurely rides. The Danish capital has wider streets than Amsterdam, so cyclists do not have to share the road with cars and pedestrians as much.
The Dutch and Danish capitals are some of the most bike friendly cities in the world. Each has dedicated bike routes and traffic systems that prioritise cyclists. Here cycling is as safe as it can be, as long as you remember to follow the rules of the road.
Copenhagen consistently ranks amongst the top cycling cities in the world, last leading the list in 2019. The Danish capital continues to add more cycling paths, including cycle super highways, which allow cyclists to easily enter the city from as far as 15 kilometres away. If you want to experience the city like a local, you cannot miss out on a bike tour of the city.
Try a Fatbike Tour in Copenhagen
Fatbike Tours Copenhagen, the latest addition to the city's cycling scene, offers an exhilarating and unforgettable way to explore landmarks, hidden gems, and diverse neighbourhoods. With its successful launch in Amsterdam in 2022, Fatbike Tours has brought its expertise and passion for cycling to Denmark. Providing locals and tourists with an exciting and alternative way to experience the city.
With Fatbike Tours Copenhagen you can explore the city at ease on an e-bike with extra thick tires. During the 2-hour tour, you will visit many of the best sights of the inner city. The trip through the city starts at Central Station, from there the journey first goes south to Vesterbro before heading to other neighbourhoods and areas.
Fun facts about bikes in Copenhagen
There are more bikes than cars in central Copenhagen
The busiest cycling path in Denmark is the Dronning Louise's Bridge
35% of locals commute by bike every day, the city wants to raise this to 50% by 2025
Copenhagen's iconic bicycle bridge is called the Bicycle Snake, together with the Bryggebroen it connects Vesterbro to Havnestad
The Copenhagen Bike Festival brings together cyclists, enthusiasts and industry experts
The Danish capital is home to over 382 kilometres of bicycle racks
Of all school children in Copenhagen 38% bikes to school
On the correct route and at a constant 20 km/h, Copenhagen's Green Wave traffic light system will make sure you don't have to stop at a traffic light