Clubs in Amsterdam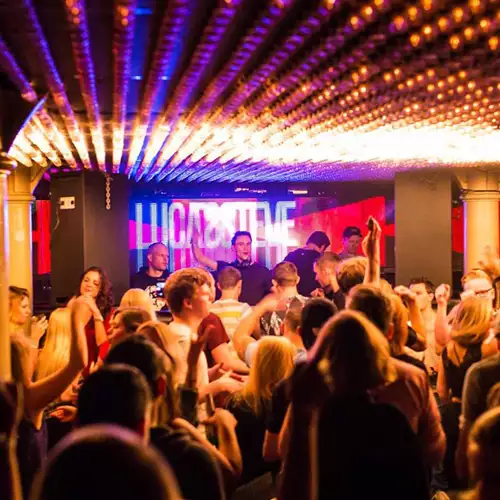 Are you coming to Amsterdam, but don't have a clue where to go for a fun night of clubbing? Or perhaps you want to know which clubs in Amsterdam are the absolute best? Or maybe you just want to know which clubs play your kind of music.
Well, you came to the right place. We are here to help you figure it out. Raise your hand if you have ever done this: Stop a local trendy looking guy to ask for tips to go out clubbing. We have all been there so it shouldn't surprise anyone if that scenario had a familiar ring to it. Although there is nothing wrong with the situation above - locals often do know the hot spots in their own town - this blog post will help you navigate through Amsterdam's club scene as if you were a local yourself.
Amsterdam club scene
Amsterdam is famous for its Dance/House scene. As a certified pioneer in electronic music (that goes back as early as the 1980's), a lot of Amsterdam nightclubs play a wide range of Electronic Music. Popular nightclubs as Escape and The Sugar factory have built up a reputation with their wild Electronic nights, where everything goes! But whether you're into Deep House, Hip Hop, and R&B,  Pop or even Jazz, we will help you find the right clubs in Amsterdam. 
The Nightlife in Amsterdam is a very vibrant and diverse scene. Most Amsterdam clubs don't focus on one music genre anymore but have a more eclectic atmosphere. This means that there is not a special focus on a certain type of music, but that it is basically a mix of all the above (maybe not Jazz though). This makes for a fun and diverse mix of people on the dancefloors.
Compared to other European cities, the club scene in Amsterdam is very active. And with that, we mean that clubs in Amsterdam usually close around 05.00 in the morning, where in most European cities you will not hear any music after 03.00 am.
Although there are nightclubs spread throughout the whole city, Amsterdam has two main party areas, Rembrandts square (Rembrandtsplein) and Leidse square (Leidseplein). The most popular nightclubs (as well as pubs) can be found here.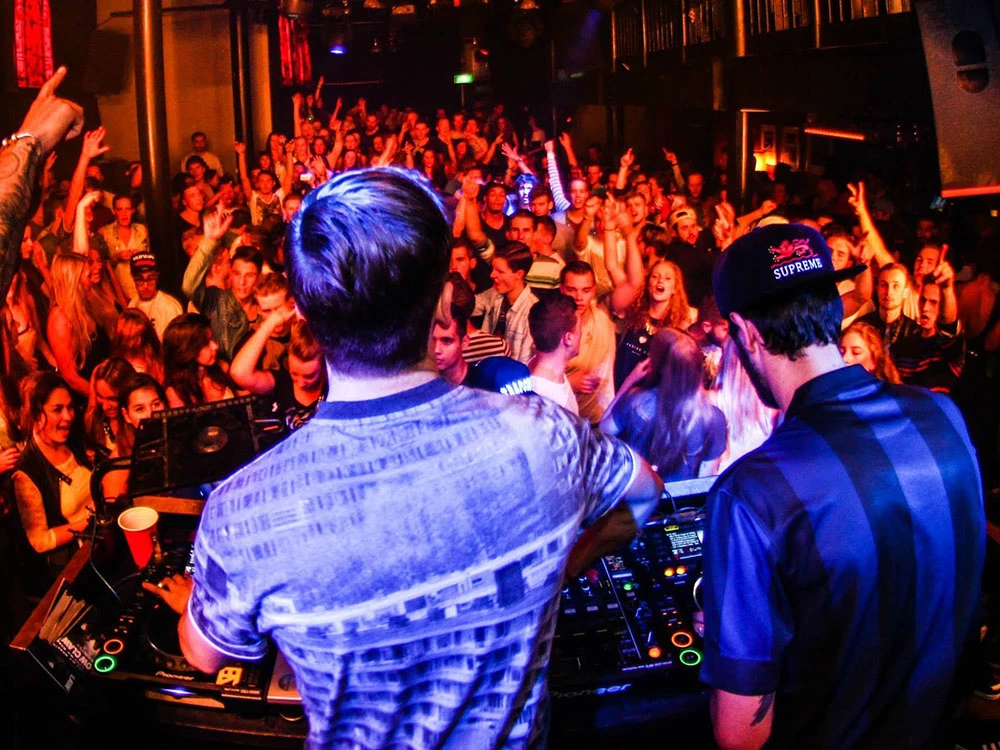 Gay club scene Amsterdam
Besides the popular Dance scene, Amsterdam is also known for its open gay scene. As one of the first cities to openly embrace the gay scene, it will not come as a surprise that there are a lot of Gay Amsterdam nightclubs. There is even an entire street filled with clubs, bars, and restaurants that mainly focus on the gay community. This street is called the Reguliersdwarsstreet and is open almost 24/7.
The best Amsterdam night clubs
It is hard to say what the best nightclubs in Amsterdam are, this is often a matter of taste. However, if you were to stop some local trendy looking individuals in Amsterdam, they would probably recommend one or more of the following nightclubs:
Paradiso, this venue opened its doors in 1968 and is located in a former church at the Weteringsschans. The great atmosphere and wonderful acoustics make it a very popular venue amongst international superstars. Together with Melkweg, Paradiso is Amsterdam's most popular pop temple. 
All kinds of different music styles are covered at this amazing venue. From rock to country and reggae. World famous artists like Lady Gaga and Al Green have performed in the Main Hall. Although they are a big band now, Kings of Leon made its start in the Small Hall. This music temple also hosts art, literature and film exhibitions. That is why it maintains its strong cultural signature. 
Melkweg (or in English: Milky Way) is the only surviving factory building on the Amsterdam canal ring. It is a former milk factory. This multipurpose venue has been open for business since 1970 when Amsterdam was considered the "cosmic center" of the world. 
Melkweg has two main music rooms, a restaurant, a gallery and upstairs even more space with theatre rooms. Melkweg has always been the kind of habitat where a wide variety of subcultures: from ravers to punk and grunge to hip-hop. There are a few world famous names that performed here before they were known to the big public.
Besides concerts, Melkweg is home to one of Holland's most popular Urban Parties, named Encore. 
Jimmy Woo is probably one of the most famous nightclubs in Amsterdam. All the A-list celebrities and ball players come to spend their hard earned bucks in this Amsterdam ''Elite'' nightclub.
Jimmy Woo is the type of club where sharing a bottle is, or should we say was, frowned upon. Now we must admit that although this is still the image of Jimmy Woo, they have made it more appealing for the average Joe's and Jane's to come in and enjoy themselves. Where back in the days you could only get in if you knew somebody from the ''in crowd'', nowadays it seems like everybody is welcome in this popular Amsterdam nightclub. Jimmy Woo has a very eclectic vibe that doesn't specify one particular sound. At most parties, you will hear a combination of Pop, House, and Urban music.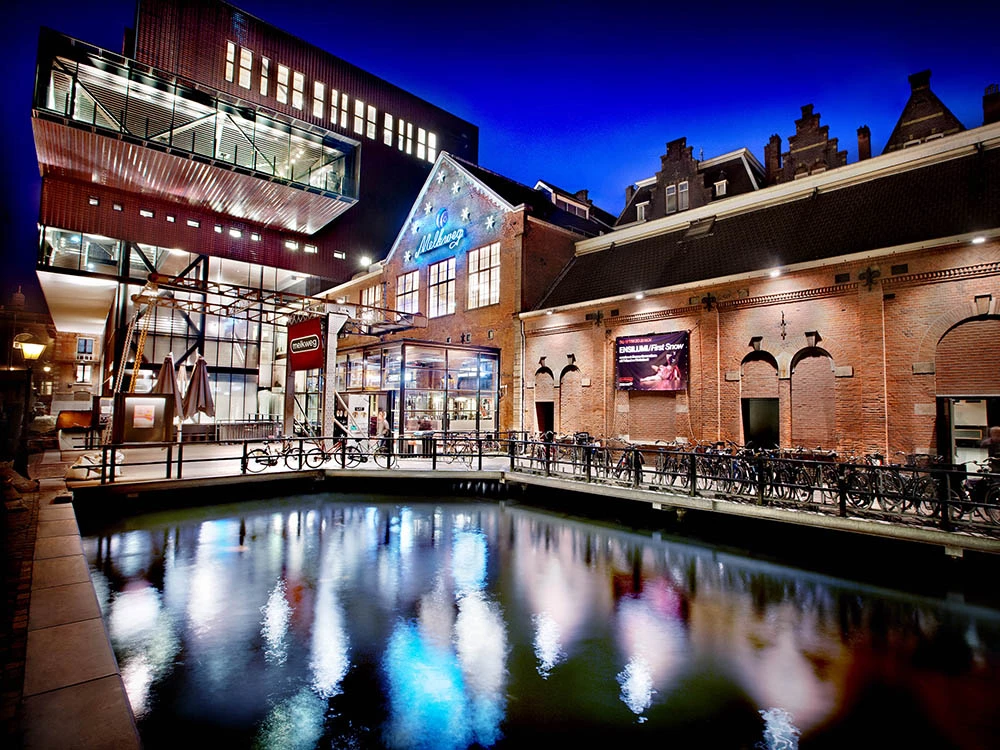 Escape, unlike most Amsterdam nightclubs, that come and go, Escape has proven itself to be an absolute keeper (est. in 1987)!
Most young Amsterdam locals have heard stories from their parents about how they used to get down and dirty in the Escape too, back when they were young. This Amsterdam nightclub has a more electric focus, which means that genres like house, electro, techno, and pop determine the vibe inside. Some of the world's best DJ's have played their magic in this legendary venue. However, on Thursdays there are also fun Salsa and Kizomba workshops -Yeah we did not see the connection at first either.. but these workshops are very popular. So among the Latin/Caribbean community, Escape may be known more for their Salsa nights. 
North Sea Jazz Club and Bourbon Street Blues Club, we were not kidding when we said that after reading this blog post you will know all the Ins and Outs of the Amsterdam club scenes.
Jazz, you either hate it or love it. In case you love it, Amsterdam got these two great Jazz clubs in store for you. Feel the great ambiance and listen to great amateur and professional jazz musicians. There are often jazz specials where well-known jazz musicians from all over the world come to show their skills. 
Club AIR, if you are into the more commercial type of dance music, then Club AIR is the best choice for you.
AIR is one of the bigger clubs at the center of Amsterdam. It can host up to 1,300 people. Both the venue and location are very good. AIR represents tolerance, diversity, creativity, quality and freedom. According to the locals, this site is one of the top clubs in Amsterdam. In Club AIR you will find all the young, hip and trendy individuals from Amsterdam. We have to admit that at times it may feel like you are at a high school dance. However, Club AIR is home to some of Amsterdam's biggest parties. There is not really a focus on a certain type of music. Also in Club AIR, there is an eclectic vibe, consisting out of Urban, Dance, House and Pop music. 
Club Abe is another relatively new Amsterdam nightclub. A lot of Urban parties are thrown here. It has a very cosy vibe because of the size. Club Abe is one of the smallest A list clubs in Amsterdam, proving that size does not matter. The average age in this nightclub is also a bit older, around the age of 25+. 
Bitterzoet (Bittersweet) is located on Spuistraat 2, has proven itself to be one of the top clubs in Amsterdam, but also a stage for underground and subculture bands, DJs, theater performances, and projects. This Amsterdam nightclub used to be the home of all the underground Hip Hop parties and album releases. For this reason, the Bitterzoet will always have a special place in the local Urban music scene. 
The audience at Bitterzoet is considered to be energetic and young. These trendy people know where to go when it comes to the best underground venues. And since Bitterzoet is one of the top clubs in Amsterdam, these people know why making a visit is a great choice.
Sugar Factory, is well known for its Dance and Electronic nights. The best house DJ's have spun their wheels in this popular Amsterdam nightclub. If you are looking for a fun night with deep house, techno, and other electronic music, then this is the place to be (along with Escape).
Panama is one of the bigger venues in Amsterdam. It can host up to 1,050 people. This trendy site is located in a historic and atmospheric building in Amsterdam's Eastern Docklands, right on the water. The venue is located in a century-old warehouse.
Club evenings at Panama are very popular, but there is also an option to come and enjoy live music or theater shows on several nights during the week. They are also well known for their 80's/90's theme nights that are very well attended. If you feel the need to go back in time and relive some of your craziest nights on iconic soundtracks, Panama it is!
See you in Amsterdam!
We have come to the end of our recommendations about the best clubs in Amsterdam. Now that you have read our suggestions, we are sure you know where to go on your next trip to our vibrant but beautiful city. See you there!