Classic Swedish dishes you need to try in Stockholm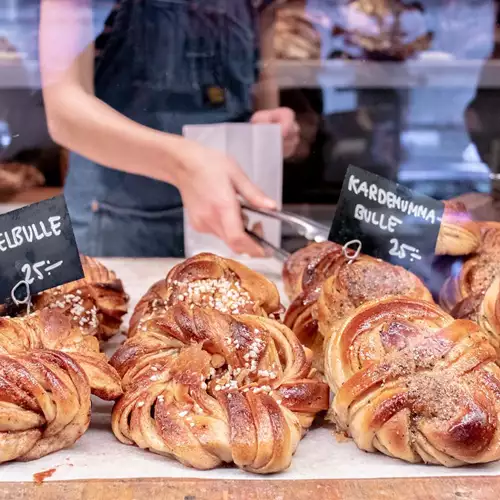 Swedes were traditionally always very open to foreign influences – ranging from influences of the French cuisine in the 17th and 18th century to the more recent popularity of sushi and burgers. So while Stockholm is home to a vibrant and diverse restaurant scene, it's worth checking out some traditional dishes when visiting.
Crisp breads, cultured dairy products, foraged berries, potatoes and seafood play an important part in the traditional Swedish food culture is mostly centred around but the Swedes also love their sweets. Read here all about the best Swedish dishes and what to eat in Stockholm.
Toast Skagen
Toast Skagen is a true classic! A piece of crunchy bred topped with a mixture of prawn, mayonnaise, lemon and dill as well as a dome of fish roe. This little delicacy is served as a starter and its invention through the Swedish cook Tore Wretman, who learned his skills in Paris.
The Toast Skagen's is rather unique: its name is derived from Skagen, the northernmost tip of Denmark. In 1956, Wretman was onboard a regatta when all of a sudden the wind died. Wretman then decided to lift the crew's spirits with some food and created this starter from what was onboard – the Toast Skagen was born.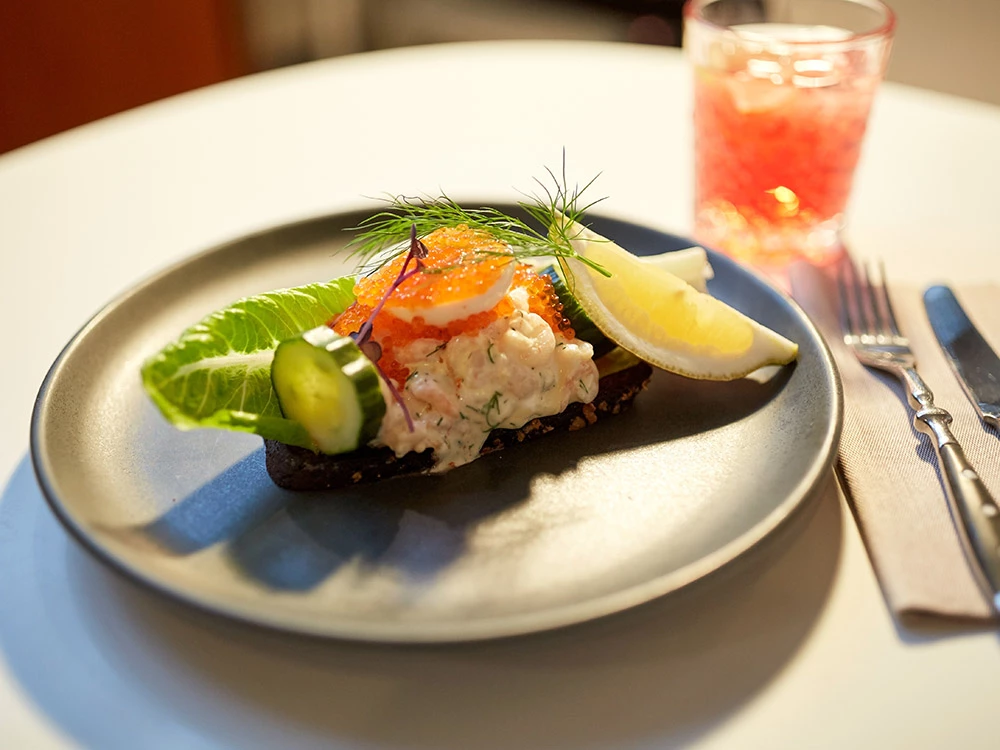 Kanelbullar
Swedes love their traditional coffee break called fika, hence it is no surprise you will find a vast variety of pastries in the country. The Kanelbullar, sweet rolls filled with cinnamon, are undoubtedly one of the most popular sweet Swedish treats out there.
The cinnamon bun is so popular, it even has its own day here, October 4th, known as Cinnamon Roll Day. The buns also come in other varieties such as kardemummabulle, rolls that are filled with cardamom instead.
Swedish potato dumplings (Palt)
A lot of countries have their own varieties of dumplings and Sweden is no exception. Originating from Norbotten County in the North of Sweden, Palt or pitepalt, dumplings made from grated raw potatoes and served with lingonberry jam, melted butter and sour cream or bechamel sauce, is a staple in the Swedish cuisine.
The dough further consists of rye or barley and is filled with a mixture of fried, minced bacon and sauteed onions. But not all potato dumplings are created equal – it is said that there are as many variations of palt as there are villages in the Scandinavian country.
Lingonberries
Foraging berries is extremely popular in Sweden, so it is no surprise that they are often incorporated into dishes and desserts. The unique Lingonberries almost look like blueberries but in red. Due to their high acidity, they are ideal for using them in jam, cordial and other preserves.
Lingonberries are traditionally used as a side dish or sauce for classic savoury meals. You can often find them served as a condiment with raggmunk, fried potato pancakes. The brightly coloured berries go especially well with meat, from meatballs, game and liver to blood pudding, or they shine on their own in zesty desserts such as ice cream, mousse or cheesecakes.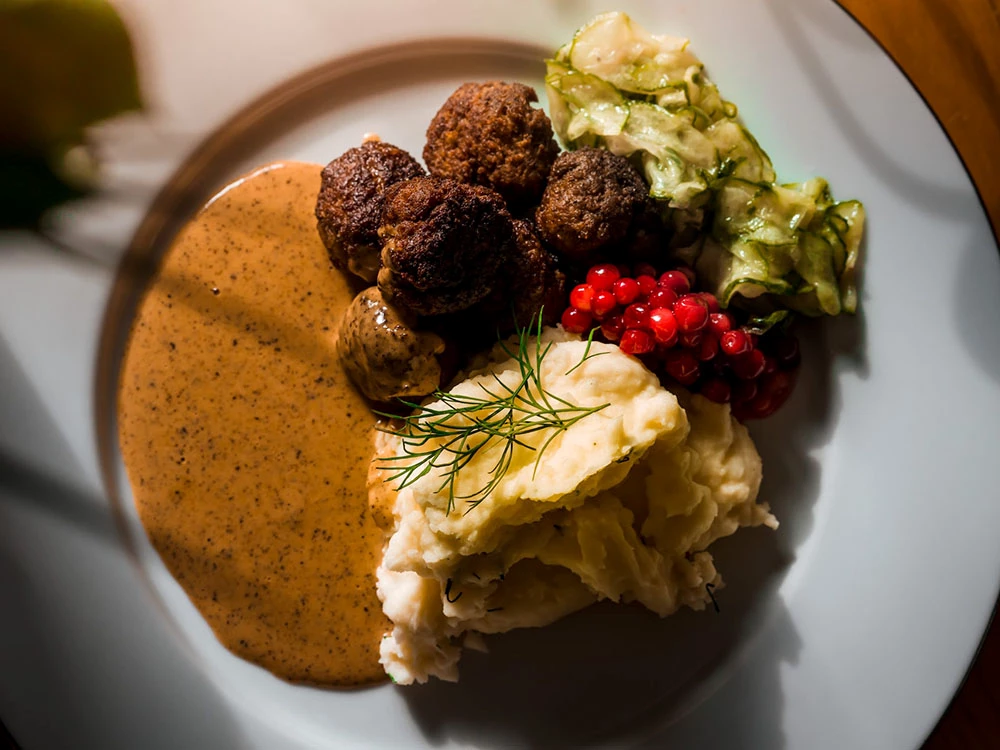 Prinsesstårta
The delicacy with the royal name is an all-time favourite in Swedish pastry shops and bakeries. The bright green Princess Cake consists of several layers of yellow sponge cake and is filled with raspberry jam and vanilla custard. Topped of with a layer of whipped cream, the cake is then sealed with a layer of the distinctive green marzipan and decorated with a pink rose made from sugar.
The cake was first created in the 1930s for the Swedish princesses Astrid, Margaretha and Märtha. The members of the royal family liked the cake so much that ever since then it bears the name Princess Cake. To this day, it is especially popular for special occasions such as birthdays and weddings, making it the most sold cake in Sweden.
Gravadlax
Gravadlax, a dill-cured salmon served with mustard sauce, is a staple in the Swedish cuisine. Its history dates all the way back to the 14th century. Since salt was expensive, people had to find other ways to preserve foods. A unique technique called gravad lax was born, where filleted salmon is buried in the ground with fish blood, spices and herbs.
Nowadays, the salmon's flavour is much milder though, thanks to the affordability of salt. Salt, pepper, honey, dill as well as local spirits and 72 hours of fermentation time in a fridge give the fish its unique flavour.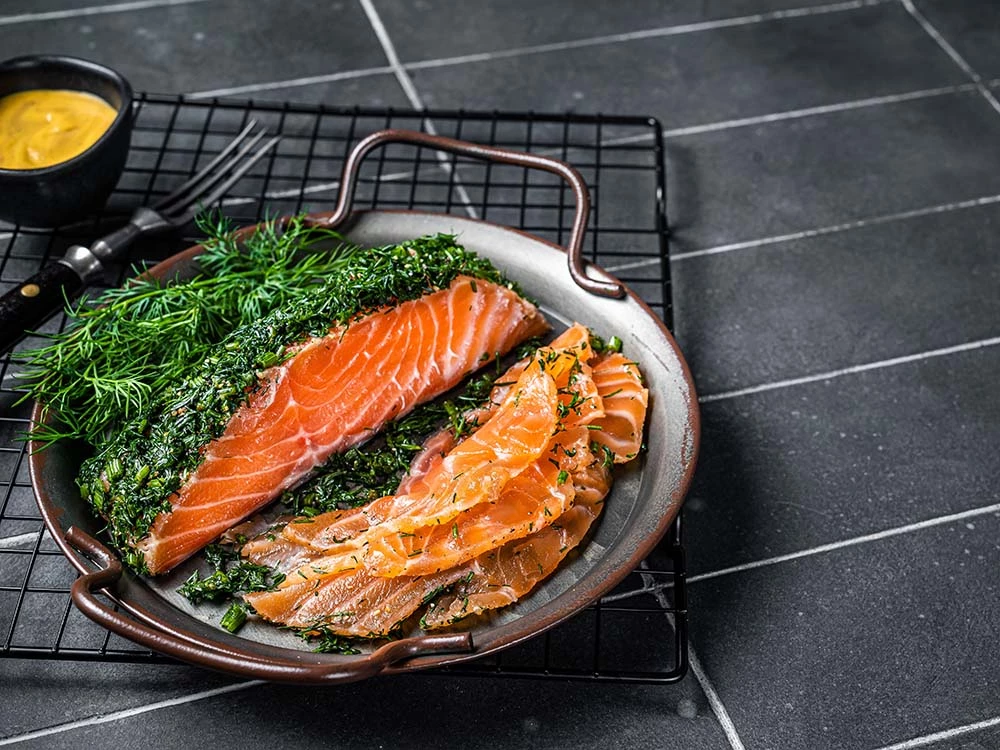 Glögg
This Swedish hot wine punch is made from red wine, korn or vodka and spices such as cinnamon, ginger, cloves and cardamom and as of today, it is one of the most famous drinks from Scandinavia. Traditionally, it is drunk during Advent and Lucia where it is often available throughout the day, also without alcohol.
Raisins and almonds are often served along the Glögg which you can either snack on or put them into the hot drink. It is further accompanied by lussekatter, sweet yeast rolls with saffron, and gingerbread. A must-try during your visit to Stockholm in winter!
Semla
Another famous Swedish bun next to the Kanelbulle is Semla, a cardamom-flavoured wheat bun filled with almond paste and a generous dollop of whipped-cream and vanilla and topped off with a layer of powdered sugar. Sometimes it is eaten soaked in a plate of warm milk, commonly known as hetvägg.
The history of Semla goes way back. The sweet bun was traditionally eaten on Shrove Tuesday or Fat Tuesday as it is called here, one day before Lent as an indulgence. Nowadays, they are commonly eaten throughout the Christmas period until Lent.