Amsterdam Art Week: an international hub for art lovers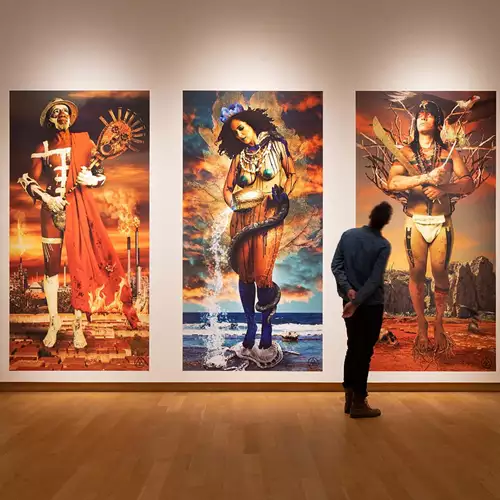 From 31 May till 4 June 2023, Amsterdam will be an international hub for art lovers, collectors, professionals, and promising and renowned artists. During this 11th edition of Amsterdam Art Week, visitors can explore the wide variety of contemporary art in the city. Over 50 locations throughout the city offer a varied programme of exhibitions, performances, screenings, lectures and artists' talks.
Several of the best museums in the Dutch capital participate in Amsterdam Art Week and bring brand new exhibits to their floor as well as artists' talks. Here you can read about some of our top tips for Amsterdam Art Week. For the entire programme, please visit the Amsterdam Art Week website.
Stedelijk Museum
The Stedelijk Museum on the Museumplein is home to one of the world's most important collections of modern art, contemporary art and design. It's main ongoing exhibition is Everyday, Someday and Other Stories. The exhibition follows the progression of art and design from before the 1950s to the 1980s and beyond through three themes.
Through the Everyday theme, you'll see how art steadily drew closer to everyday life with artists using more mundane materials, actions and events. Someday portrays the idealism of post-war decades. Other Stories displays familiar artworks in unfamiliar ways, telling narratives that have yet to be explored.
Other exhibitions on display at the Stedelijk Museum during Amsterdam Art Week include General Idea, the largest-ever exhibit of the ground-breaking Canadian artist group. Also on display is Felix de Rooy – Apocalypse, showcasing five decades of multidisciplinary artistry. And Keith Haring's Amsterdam Notes, one of the largest museum pieces ever, will be on show in the IMC gallery.
Foam Amsterdam
Foam is Amsterdam's leading photography museum, displaying contemporary photography from both world famous and up-coming photographers. During Amsterdam Art Week Foam has three different exhibitions on display. One is Ernest Cole's House of Bondage, an overview of the South Africans work, including works from his archive long considered lost.
Sem Langendijks's first solo exhibition, Haven, is also on show at Foam. In a time when many residents can no longer afford to live where they grew up, Langendijk's exhibition looks into the process and effects of gentrification and the social inequality it generates. And there is Sara Cwynar's S/S 23 exhibition, where she examines both the products and buildings with which we shape our living environment.
Amsterdam Museum at the Amstel
Due to a renovation of its main location, the Amsterdam Museum can temporarily be found along the Amstel river. The museum is dedicated to the city, exploring its past, present and future. Their main exhibit is Panorama Amsterdam, where they try to define the biggest characteristics of the city.
During Amsterdam Art Week, the museum will showcase a first look at Denzel Veerkamp's The Perpetual Reverse Assimilation Project. In this series of designs, the fashion talent previews his new work, which is inspired by the Afro-Surinamese koto costume. On Saturday 3 June, the museum also holds an Artist Talk with Denzel Veerkamp and Luis Martins about Veerkamp's new designs.
Other locations for contemporary art in Amsterdam
Not all museums in Amsterdam that feature contemporary art are participating in Amsterdam Art Week this year. The Moco Museum, is one such museum, which is a must-visit for lovers of contemporary art. The boutique museum offers a wide range of modern art, contemporary art and street art.
Another not-to-miss location is the STRAAT Museum, the largest street art museum in the world. With new works created on location and ever changing works on display, every visit here will show you something new. The whole area around the museum is a creative epicentre in Amsterdam, that should be on your must-visit list.