A Swedish Easter in Stockholm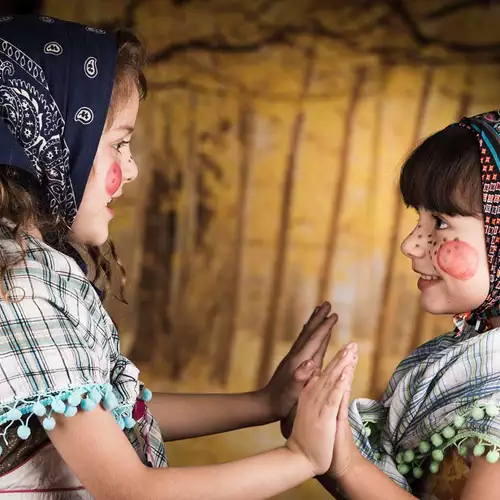 Easter in Sweden isn't quite like Easter celebrations in other countries. Here it is not the Easter bunny but witches who roam the streets instead and there is loads of candy and plenty of spring celebrations as well. Sweden is a secular country, which is why here Easter is more about celebrating the first long weekend of spring, than any religious traditions. For locals it is simply an extra day-off from work to spend with friends and family.
Children dress up as Easter witches, or påskkäring, just know that these are cute witches, nothing like those who haunt the streets during Halloween. Though they do go around their neighbourhood in groups, asking for treats in exchange for a home-made drawing or Easter letter. The witch comes from Swedish folklore, which says that a witch-like character flew on a broom to the mythical island of 'Blåkulla' on Good Friday to mingle with the devil, returning on Easter Sunday.
There are plenty of things to see and do when you visit Stockholm over the Easter weekend. You can find your way to traditional Easter activities, visit some of the incredible museums in Stockholm (though some may be closed on Easter Monday) and eat some delicious Swedish food.
Explore Swedish Easter traditions
To really get to know Swedish Easter traditions, a visit to Skansen must be on your Easter itinerary. Skansen is the home of Swedish traditions and culture, it is where they are maintained and shared. The open-air museum Skansen is also home to a lot of animals, which means that a visit in spring could bring you face to face with a cute little new born.
During the week of Easter, decorative eggs, Easter feathers and rice, marzipan and sweets are sold at the Easter market in Skansen. On Maundy Thursday (the Thursday before Easter) the park has free entry for children dressed as Easter witches and wizards, who can make their own brooms, write Easter letters and try their hands at arts and crafts.
Easter activities across Stockholm's attractions
Skansen isn't the only attraction in Stockholm to make Easter a special time of year to visit. The Viking Museum is filled with prophecies, mysticism and witchery during Easter. You'll be able to meet the Völva, a powerful seer from the Viking age, who will use her runes to predict your future and can teach you how to read the runes for yourself.
Over at Junibacken the Easter holidays are all about dressing up, as all children who come in Easter-themed costume will get an Easter egg. Easter is also when Junibacken's gardens open its doors for the season and what better way then to celebrate that than with an Easter egg hunt. Other places where you can find special Easter events include the Nobel Museum, Moderna Museet, the Swedish Museum for Natural History.
Watch spring awaken the city from the water
Like in many places in the northern hemisphere, with Easter comes spring. As the weather warms up, the city comes to life again, with more people out and about and parks turning green again. One of the most relaxed ways to see the city is with a boat tour and the best are those that take you around the island of Djurgården.
An Easter food fest
Much like for Christmas and Midsummer, it is Easter Eve that is the holiday's major feast day and it is also the day for traditional food. The Swedish Easter table is covered in delicious dishes, such as Gubbröra - an egg salad with anchovies. You'll also find different variants of pickled herring, infused with spices, cloves and onion, or mustard; and of course salmon, which may be poached, fried  or served chilled in cured ('gravlax') or smoked form.
Other dishes include Janssons frestelse (Jansson's temptation), a gratin-like dish made from potatoes cut into strips and layered with onion and anchovies, and Västerbottenpaj, a quiche laden with extra mature Västerbotten cheese. But one food that Swedes are particularly fond of during Easter is sweets. At any supermarket in the country you'll see people of all ages scooping up fizzy strawberry laces, rainbow-coloured jelly eggs or vegan lemon toffee into paper bags or in decorative paper eggs.