A guide to Stockholm's best nightlife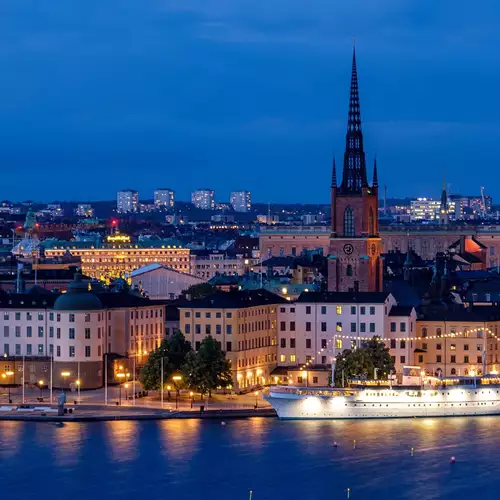 While Stockholm is typically known for its cosy Old Town and beautiful scenery, you shouldn't miss out on the nightlife here either! With pop giants like ABBA and Avicii coming from Sweden, it comes to no surprise that the city is home to many great places to party and clubs and dance floors of the highest standard.
Stockholm's nightlife is especially vivid during summer. During the warm months, the city is buzzing with outdoor clubs and parties. But no matter what time of the year you visit or whether you love to dance all night, participate in a pub crawl or sip fancy cocktails, nightlife in Stockholm has something for everyone. Keep on reading to learn where to party in Stockholm's city centre!
Berns Salonger
Quite the historical institution and of the best nightclubs in Stockholm is Berns. This unique art nouveau institution is a restaurant, hotel and night club in one. Dance the night away on five large dance floors, surrounded by lavish interiors from the 1800s and under glamorous chandeliers, making it probably one of the most stylish clubs in the Swedish capital.
Many Swedish and International artists and DJs have performed here in the past, so keep your eyes open for major events. This is the club to go if you want to dance through the night in an exclusive setting with a fancy drink in your hand. Not in the mood for partying? Then try their amazing Asian dishes for dinner!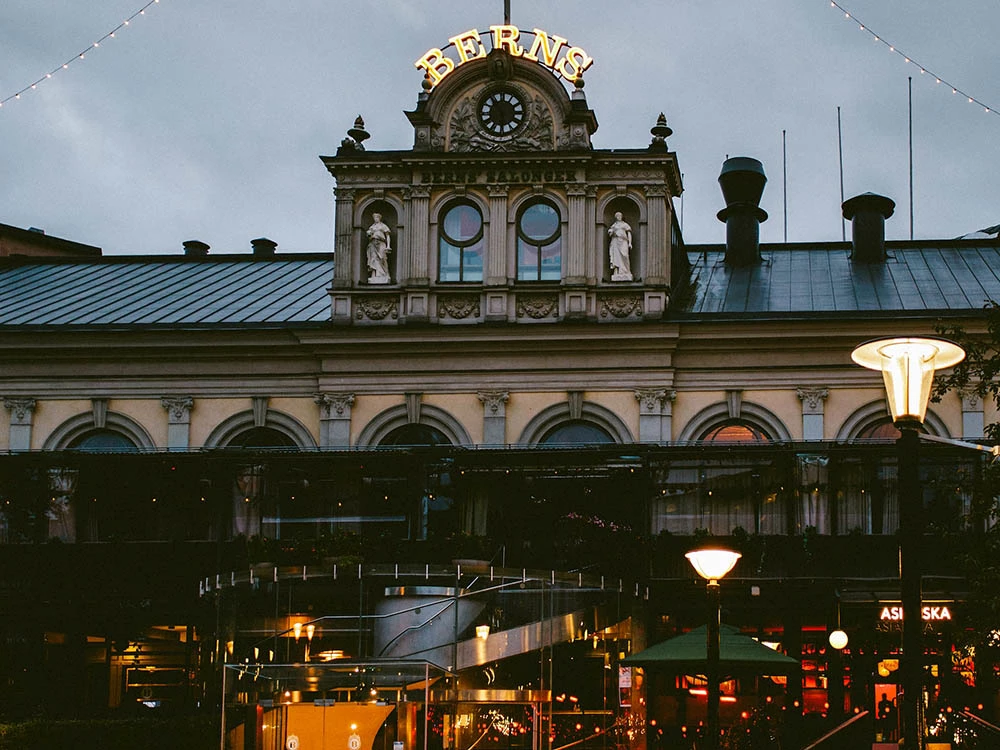 Tweed
The Tweed is all about comfort: ambient lights, brown leather Chesterfield armchairs as well as golden and red highlights give the cocktail bar a unique and tranquil atmosphere. Located in the famous Gamla stan, Tweed has a great reputation for craft cocktails, so make sure to reserve your table beforehand as the bar is quite popular.
The cosy drinks oasis delights with well-balanced cocktails. The fascinating cocktails like the Margarita-style Peyote contain unique ingredients such as ginger, chili & habanero shrub as well as bee pollen syrup, while the complex Honey's Kiss comes with Sea buckthorn honey and oil. An experience for your taste buds not to miss during your visit in Stockholm!
Fasching Jazzklubb
Fasching combines concerts, clubbing, bar ambiance and good food while serving old school soul and funk at its finest. Centrally located in the Kungsgatan, this is one of the most famous clubs in Stockholm. Either see concerts in an intimate environment while having dinner and with a great view of the stage or join other clubbers on Fridays and Saturdays from midnight to dance the night away.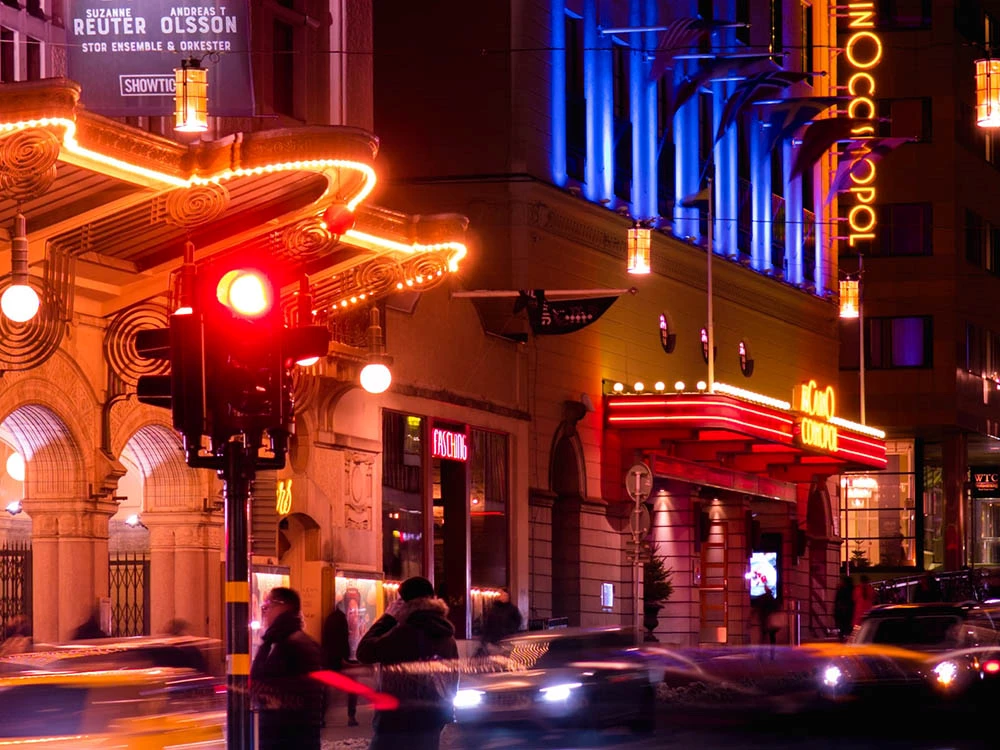 ICEBAR Stockholm
A slice of the Arctic North right in the city centre! Icebars can be found in many cities and countries nowadays but the ICEBAR Stockholm was the first of its kind, built in 2002. Carved out of 40 tons of natural ice from the Torne River, the bar is open all year round with a freezing temperature inside of -5 degrees Celsius.
Warm yourself with an ice cap and gloves to brace the cold temperatures inside the bar. But not only the bar is made out of ice, so is the glass your drinks are served in. Even better: your ticket includes one drink already. Enjoy it surrounded by artistic designs and fascinating interiors.
Jazzpuben Stampen
The place to be for music lovers to be is the Jazzpuben Stampen. The truly bohemian and authentic atmosphere in the jazz and blues bar make it a true gem located in the Old Town and Stockholmers love it, too.
During the 17th and 18th century the location had been in the premises of the French Reform Church until 1880 and was home to a pawnshop afterwards. In 1968, it was eventually turned into a jazz pub and many of the original interiors such as instruments and stuffed animals still decorate it to this day. Whether you fancy some Modern Blues, Soul or R&B – the jamming sessions here are legendary.
Trädgården
Located in Stockholm's it-district Södermalm next to a concrete bridge, the summer club Trädgården is basically a playground for grown-ups. The big courtyard turns into an outdoor party space between May and September every year, including a courtyard dance floor, a venue for live music, a burger shack and table tennis and boules areas.
During the Winter months the space is taken over by the Under Bron (Under the Bridge), scaling it down to a two floor techno and electro club. Warm up to the sound of famous and local techno DJs and immortalize your night in the photo booth.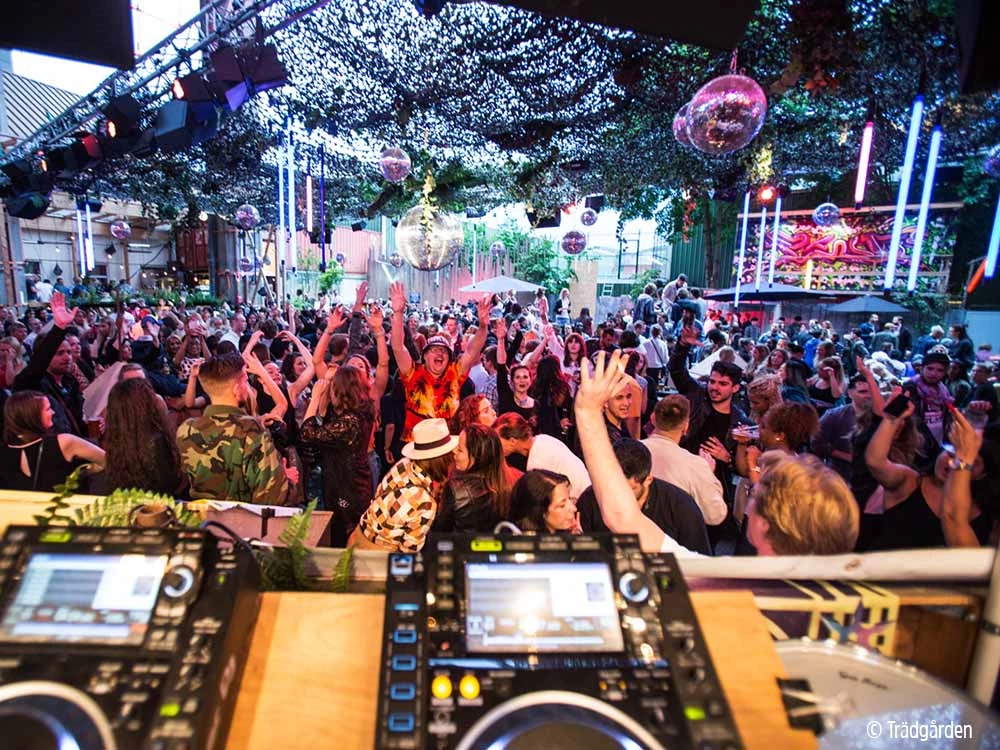 Häktet
Häktet is located in another fascinating location. Once an 18th century prison for prisoners who couldn't pay their bail, it is now an inviting restaurant, speakeasy club and beer bar. The Scandinavian 'tapas' are made from fresh local ingredients, marry unique flavours together very well and are served with creative plating.
The cocktail bar further offers an extensive range of cocktails on an ever-changing menu. Watching them make your cocktail is a mesmerizing experience by itself. Whether you're thirsty for unique cocktails, beer, wine or non-alcoholic drinks. Looking to party? Join the beer bar at the end of the 'prison', where you will find cosy home parties.