72 hours in Stockholm: history, culture & nature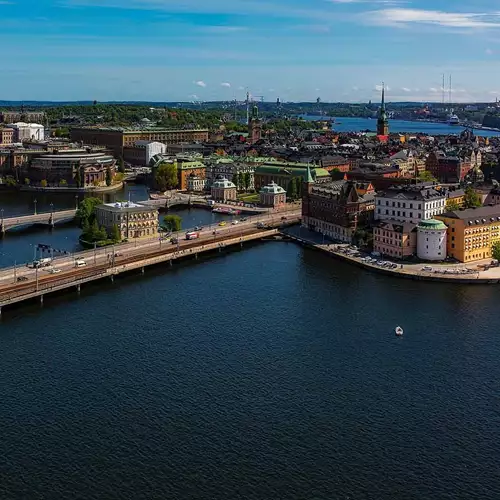 Stockholm has been inhabited since the stone age though it took until the 13th century to officially become a city. As such the capital of Sweden is rich in history and culture, yet it has also maintained a strong sense of nature and is one of Europe's most environmentally friendly cities.
While a city trip to Stockholm won't give you enough time to discover all of the city's history, culture and nature. Spending 72 hours in Stockholm can be the perfect amount of time to start exploring the city in all its richness. To make your stay in Stockholm as convenient as possible, we recommend buying tickets for the Hop on Hop off bus and boat, there are tickets which will last you your whole trip to Stockholm!
Day 1: exploring Stockholm's city centre
When you are ready to start exploring the city, hop on the bus to head out to Gamla Stan. This compact island in the heart of the city is Stockholm's old town with cobblestone streets and colourful 17th and 18th century buildings. Here you'll also find the Royal Palace, the Nobel Prize Museum and the medieval Storkyrkan cathedral.
The Royal Palace is one of Europe's oldest and most dynamic palaces, with three museums and a vast library, and it is open to the public year round. The Nobel Prize Museum, meanwhile, has exhibits on both the history of the award itself as well as the subjects winners have received their awards for. And naturally, as all old town's around the world should, Gamla Stan has a multitude of stylish bistros, and for later in the day there are old school pubs and chic cocktail bars.
On the opposite side of the water from the Royal Palace lays the Norrmalm neighbourhood, which is Stockholm's cultural hub. There is opera and ballet at the Royal Swedish Opera, art exhibitions and modern dance at Kulturhuset Stadsteatern, and orchestral performances at the Stockholm Concert Hall.
This neighbourhood also offers great places for shopping, especially on Drottninggatan and the streets around it, where you'll find mainstream Swedish fashion and design shops. For a break from the busy city streets, head to Kungsträdgården. The city-centre park is surrounded by galleries, restaurants and cafes, and in spring you'll find yourself here surrounded by cherry blossom trees.
End your first day in Stockholm on Kungsholmen island. This laid back neighbourhood is home to the red brick, lantern-topped City Hall. Usually you can make your way to the top of the tower between May and September, for amazing panoramic views across the city. The neighbourhood has plenty of great restaurants to visit for dinner and bars to visit after.
Day 2: time for culture and lots of fun
Start of the day by taking the Hop on Hop off boat to Skeppsholmen island for a visit to the Moderna Museet. This museum holds Sweden's largest collection of modern art and is a leading museum in Europe when it comes to collecting, preserving, sharing and exhibiting modern art from the early 20th century and photography from 1840 onwards. On show are keyworks by Picasso, Popova, Dalí, Oppenheim, Rauschenberg, Judd and Penn, along with works by contemporary practising artists.
Next, hop back onto the boat to make your way to Djurgården as it is time for some laugh-out-loud fun. Let's start with the ABBA Museum, a place unlike any other in the world. Here you can sing, play, mix original music, become the fifth member of the band and virtually try on ABBA's extraordinary costumes. Keep an eye on the piano linked to the one in Benny's studio, it starts playing whenever he does and duplicates his exact performance.
Two great options for your next adventure are just around the corner. Will you choose the lose your voice while screaming on the roller coasters of Gröna Lund, or will you discover more about Sweden's history at the world's first open-air museum, Skansen? Gröna Lund is packed with over 30 attractions to amuse everyone, and is home to Sweden's longest running festival: Grönan Live.
Skansen includes a full replica of an average 19th century town, where craftsmen in traditional dress such as tanners, shoemakers, silversmiths, bakers and glass-blowers demonstrate their skills in period surroundings. Other sights in the museum include a zoo with native animals, the Baltic Sea Science Centre and the Skansen Aquarium.
Djurgården is home to several more fun museums, where you can discover more about the Sweden's culture and history. Such as the Vasa Museet, easily reached from Skansen via the Hop on Hop off bus. It centres around a ship called Vasa, which sank on its maiden voyage in the harbour of Stockholm in the 17th century and was rediscovered in 1961. This is one of the most unique museums in all of Scandinavia as well as the most visited museum.
Day 3: the Stockholm Archipelago and Stockholm's creative side
The city of Stockholm sits on 14 islands, the Archipelago around the city consists of 30,000 islands. During your short stay in the city seeing even a little of the archipelago beyond is a must-do and luckily it is easy enough to do. The Royal Bridges & Canal Tour will take you from Gamla Stan to cruise through the archipelago for one hour, leaving you plenty of time to discover more of the city itself.
Once back at Gamla Stan, hop on the bus to visit Södermalm. This is one of the city's most relaxed and creative neighbourhoods, with artsy shops and eclectic cafes. The island is also home to the world's largest photography museum, Fotografiska. There is no permanent collection, instead Fotografiska's displays constantly changing exhibits throughout the year, which means that every visit here will bring you something new to see.
The area around Medborgarplatsen is great for a walk, shopping at second-hand shops. In summer there are many outdoor cafes, while in winter there is an ice rink. Leafy Nytorget Square and the bustling Hornstull area offer many classic Swedish restaurants, perfect for your last night in the city.
If you have free time, we've got some awesome things to do in Stockholm you might want to check out. They're pretty captivating and totally worth exploring.